Sign up for our "Vacation Ideas for Your" updates and receive this FREE Ebook you will learn the secrets to how to choose a vacation that every person in your family will enjoy!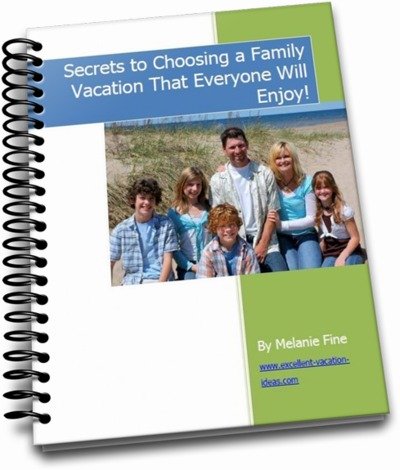 Sometimes it is really hard to plan the "perfect vacation". It is hard to please Mom, Dad and the kids. Mom and Dad may want to relax, but the kids want to go to Disney World or go hiking or camping. This report will give you:
The questions to ask your family when in the beginning stages of family vacation planning


A list of vacation ideas including, where to go and what to do


Some ideas for vacations that you may not have thought of before


Some resources to make your next family vacation GREAT!
Vacationing with family is one of the best ways to bond and create memories together. It can also be a nightmare if it isn't planned very well. This report is the first step in creating a family vacation that will make everyone happy!
This guide will show you how to choose an excellent vacation that will cater to everyone! So sign up for our "Vacation Ideas for You" updates now!
---