It seems like we are always looking for new and exciting family travel ideas that will satisfy everyone in the family!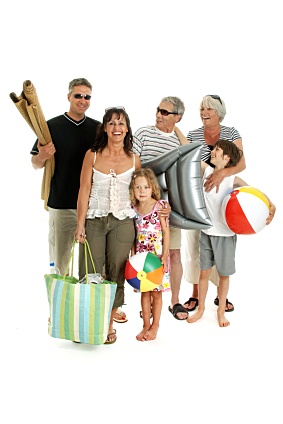 There is nothing worse then planning a beautiful vacation to the mountains, and having yawns and boredom coming from the back seat.
When planning a family vacation, it's more important to answer the question "What do we want to do?" than "Where do we want to go?".
Kids enjoy being active, so a road trip through the rocky mountains might not do it for them. And let's be serious here, if the kids aren't happy chances are no one is. Besides that, aren't you planning a family vacation to spend time together?
Our motto has always been "A Family that Plays Together Stays Together". So we make sure that we plan a holiday that we will all enjoy!
There are some family vacation ideas that cater just to the kids. Others that cater to teens, and more and more vacation destinations are starting to cater to kids, teens and parents so everyone can have a great time together.
Listed here are some family vacation ideas that are sure to cater to everyone. We also have a free eBook that will help you choose what type of holiday will work best for your family.
Lets start by asking some important questions: