NCL is our favorite cruise line, so far. And to be honest if we are looking for this type of holiday we look at NCL's itineraries first to see if they have one that we are interested in.
We could tell you about all the different ships etc., but you can find that information on a zillion other sites - including NCL's site. We will touch on some ships and features, but really we want to share why we think NCL is a great vacation idea.
Norwegian Cruise Lines have revolutionized the industry by transforming the "traditional cruise" experience into a Freestyle experience.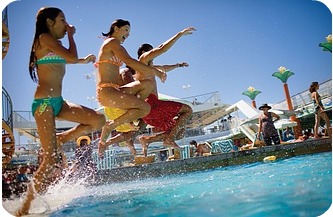 Essentially their service revolves around do what you want, eat where you want, when you want to. So no real schedules to keep - other than when to return from shore excursions! (you don't want to get left in the ports I assume!)
The industry is responding to this way of cruising, as other lines are starting to offer more options for dining and activities (i.e. Princess offers a beeper system in their dining room).
Why we think they are great:
Have the best suites at sea!
Casino's at sea program
NCL Itineraries are wide and varied
Great romantic vacation idea or
Great family vacation idea
Newest Fleet on the planet - great Ships
Most dining options at sea
See our Norwegian Jewel Review
To book your NCL trip click on the logo