We sailed on the Norwegian Jewel recently. I could give you all of the facts and figures about the Jewel, however I know that you can find that info anywhere. When we are looking for information on a cruise ship, we want to know how people enjoyed the ship, see lots of pictures and find out any tips that will make the trip go even smoother.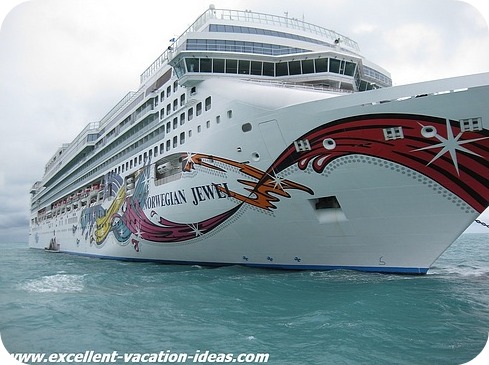 We really enjoyed our time on the Norwegian Jewel cruise ship. We always enjoy this size of ship and freestyle cruises. We also enjoy and only stay in the suite level cabins, which no doubt enhances and even made our vacation as great as it was.

Previously as a couple, we have sailed on the Norwegian Dawn Cruise Ship (in an Owners Suite), the Pride of Hawaii on our Hawaii adventure (in a penthouse suite), the NCL Gem (in a balcony cabin as it was a 2 day cruise to nowhere) the NCL Jade (2 week Europe and Egypt cruise in an Owners Suite) and this time we chose a Courtyard Villa as we wanted the extra cabin for Montana. This was a trip for her spring break and her first cruise on NCL.
We chose to take a Norwegian Cruise Lines cruise in July of 2006, back when I was tired of "traditional cruising". I had always felt rushed and was sick of being on a schedule. I also always felt like we were running from activity to activity or "missing out" on something on other cruise lines.
Then Warren found NCL and the suites and villas and that was it, we were hooked. Just to let you know we aren't sun worshippers (although Montana wishes we were at times).
We like to relax, have good food and service, good entertainment, great ports to visit and of course, visit the casino. The NCL ships make this work for us better than any other cruise line.