Costa Maya Mexico is a fairly new port of call for cruise lines. The entire area has been built to accommodate the cruise ships. We visited it as a port of call while on Norwegian Cruise Lines Jewel. You have many options to choose from when visiting Costa Maya.
It was one of our favorite days on the cruise, mainly due to our time at the Maya Chan Beach Resort.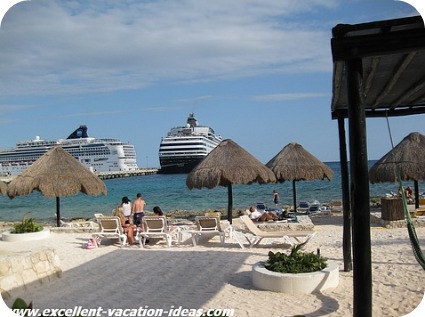 Beach right at the dock
You don't have to go far to enjoy your day. In fact you barely have to get off of the ship. We were amazed at how much there was to do in the port area. There were quite a few restaurants, bars and lots of shops. You could also enjoy the beach or even a pool.
We were surprised by the shopping. So much so that we decided to leave the day resort a little bit earlier so we could take some time wandering through the shops. Montana found a silver personally made ring that with one of the vendors. Not only was the ring pretty, the guy that sold it to us was entertaining! Unfortunately it took a little longer than we all thought it would and we were part of the last group back on the ship! Good thing we only had to run up the dock to get the ship!