There are so many romantic activities Amsterdam. It is one of our favorite European cities.
Warren and I have visited twice now and love every minute of it. The people are friendly, the food is amazing, the museums are beautiful, and it is a great walking or biking city to explore.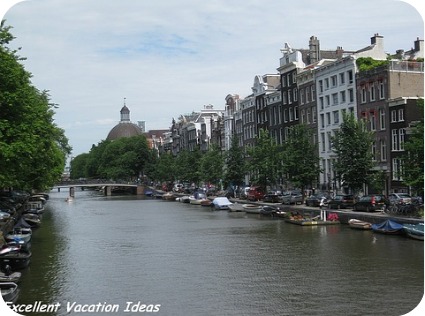 The Canals

Some of our favorite romantic things to do in Amsterdam are:
Sit on a patio or in Dam Square and watch the people go by and enjoy a drink in one of the many Cafes
Wander through the Van Gogh Museum or any of the Amsterdam Museums
Take a walk in the Red Light District (it really is entertaining and the history is really quite cool)
Take one of the many canal cruises
Wander through the shops in the Nine Streets Shopping District or the Museum Quarter among other shopping areas
Find a bargain at one of the many street markets
Have a wonderful Argentinean steak dinner in one of the fabulous Argentinean steakhouse
Eat Dutch pancakes for brunch after sleeping in and miss breakfast
Have a drink in the Leidseplein and watch the street buskers
Check out the Boom Chicago Show
Watch the artists practice their craft in Rembrandt Square
Take a evening stroll along the canals
Take a horse and carriage ride
Relax in one of the parks
Shop for Flowers in the world famous flower market
Find the best deal, compare prices, and read what other travelers have to say about hotels in Amsterdam at Tripadvisor.com
Here is a great video showing you what life in Amsterdam is like. It is very well done!
---