One of the most popular things to do in this beautiful city is to share a romantic meal or drink in one of the many cafes in one of the many Squares and watch the activity. A few of our favorites are:
Dam Square
A meeting place and main point in the city. You will find the National Monument, many hotels, cafes and restaurants, Madame Tussaud's Wax Museum and the Royal Palace.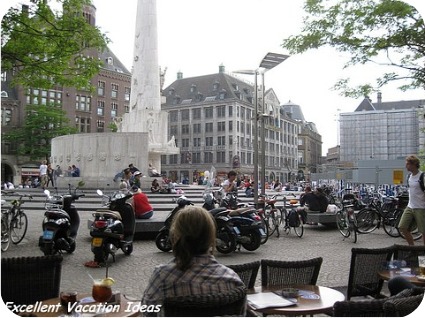 Sitting in one of the Amsterdam Cafes in Dam Squares
On our first visit we stayed at the NH Grand Hotel Krasnapolsky with an incredible view of Dam Square. It was a wonderful place to stay, local to most attractions and activity. Dam Square is just a short walk from the shopping are a "The Nine Streets".
Careful though, having a drink here may be romantic and fun but can be expensive. We literally had bread and water (and Diet Coke) and it cost 25 Euros!

OK Fine we had a Diet Coke as well...but you pay for the real estate
Rembrant Square (Rembrandtplein)
Bustling with activity, you will find locals and tourists shopping, dining in Amsterdam Cafes and enjoying the square. You will also find street fairs, markets and artists practicing their craft.
Nieuwmarkt
Enjoy the beautiful Waag, a late 15th century Weigh House. It is a beautiful building that you can have an amazing lunch or dinner on the patio, or at one of the many pubs or Thai restaurants in the area.