Macau China is worth a visit, either as a day trip or for a few days. It is a beautiful peninsula about 45 minutes by ferry from Hong Kong and is one of our favorite destinations in Asia.
Macau is connected to mainland China and is about 1/6 the size of Washington DC.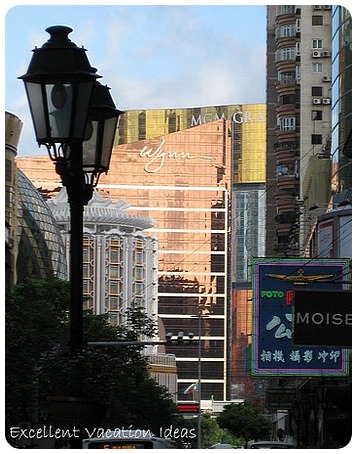 Most people think of this Peninsula as "the Las Vegas of Asia", and in many ways it is. However it is also so much more.
The history of the area stems back to the Qin Dynasty (221-206 BC) until today. Formally a Portuguese trading post, it was handed back to China in 1999. It is now a Special Administrative Region (SAR) of China.
You will find an incredible mix of Chinese and Portuguese character to it. Famous for it's casinos, history, egg tarts and almond cookies.
We spent 4 days in Macau China in July 2009 as the first leg of our first romantic vacation to the Far East together. Since we loved Las Vegas, we really wanted to see this relatively new mecca of gambling and entertainment. We returned in July of 2011, and enjoyed it even more.
In the casinos, we always felt like we were in Las Vegas, but something was different. At times it felt quite odd. Then we would step outside and the extreme humidity and culture of Macau would hit us and we were clear "We weren't in Kansas anymore".
We love visiting this area and will return on our next trip to the Far East. It is a great place to adjust to jet lag when traveling to Asia as it is open 24 hours a day.
On our second trip, we enjoyed it even more. This time we stayed at the MGM and were really happy with this property. We would highly recommend it and will return.
We would recommend Macau as a romantic vacation idea, it really isn't a family destination. There isn't a lot for kids to do in Macau. I wouldn't take young children here as they are strictly forbidden in the casinos.
Teens may enjoy the shopping and the activities at the Macau Tower.
More information on what to do here, check out our Macau Tours page.
---