Paris France Travel Guide: Below is our guide for ideas for your next romantic or family trip to Paris. You will find some great tips for making the most of your trip to Paris with or without the kids!
One of the most visited cities in the world. You will find romance, history, excitement, entertainment, world class shopping and restaurants.
Warren had never been before, so I persuaded him to visit the City of Lights on a recent trip to Europe.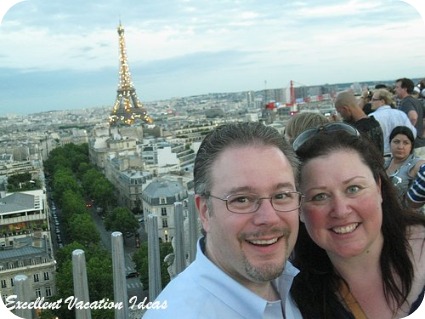 He enjoyed it so much more than he though he would! There is no doubt that we will go back often.

Tips on Visiting Paris:
If you go in high season book a tour to see the main attractions as you can usually by pass the line.
Use the Metro to get around, every attraction or area has a Metro Station close to it
Book tickets to the Eiffel Tower before you get there, otherwise the online tickets may sell out while you are in Paris
Try to avoid visiting in high season, it is really busy (we were there in July and it was crazy)
Take a evening stroll along the Seine River
Do not rent a car for getting around the city. You won't be able to park it and to be honest the drivers are crazy - Stick to the Metro, taxis, tours or walking
If you don't speak any French, learn a little. If you at least try the local people will be charmed and it will be easier to communicate with them
Make sure you take a good guide book and map
Take a great Digital Camera and extra batteries and a 32 GB Memory Card