Pictures of the Eiffel Tower. When we visited Paris, this icon was probably in the majority of our photos. Share your favorite photos below.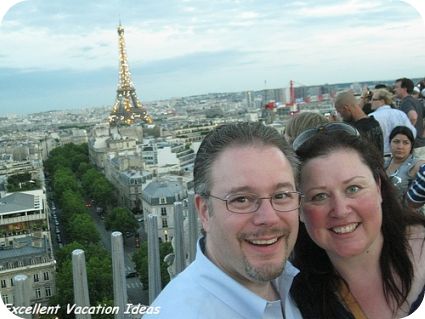 From the Arc de Triomphe
We had shots from our first glimpse, from across the Seine river, from underneath, from across the park, from the Ecole Militaire, from the top of the Arc de Triomphe, at night, in the day while on a segway, shots of it alone, shots of how many people were trying to go and see it, shots of us in front of it.... You get the point.
There were people everywhere taking pictures. There were even photos and artworks to buy in every tourist and art shop we went by. There were postcards, books and table place mats of the Eiffel Tower.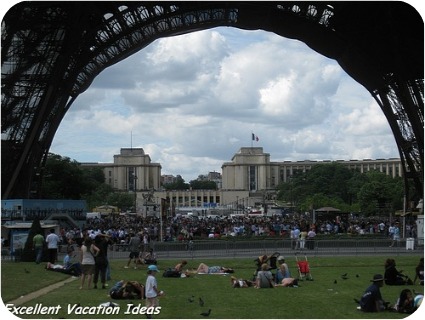 We even realized that on our little point and shoot camera (that we bought in Canada), the icon to represent a "night shot" was a cartoon person with the moon and the Eiffel Tower.
As I was writing the Facts about the Eiffel Tower page, I thought, I bet it is the most recognized landmark in the world and I bet it is one of the most photographed icons in the world.
Apparently my hunch was right. As I did some research on this, I found an article about a study done on Flickr.com. This icon ranks in the top seven most photographed landmarks, including Trafalgar Square, Big Ben, Notre Dame and the Empire State Building.
Regardless, everyone has a favorite photo of the Tower. I have never, nor will I ever claim to be a photographer, but I have a favorite. Mainly because I think it turned out well and it reminds me of one of our favorite parts of our trip to Paris.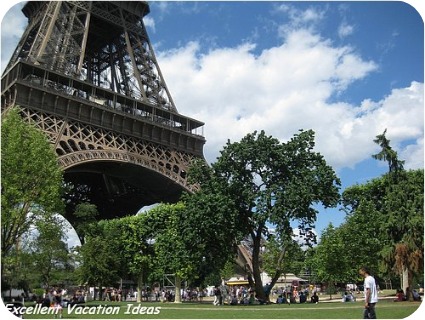 We would love to see your favorite photos of the area, please share them below and give a little description telling us why you like this picture of the Eiffel Tower.
If you are going to Paris and want to learn how to take a great photo, visit our Take an Awesome Eiffel Tower Picture page. There are some great tips there on how to take a great shot of it!
Otherwise, if you are planning a trip to Paris, don't forget to climb to the top of the Arc de Triomphe. We loved it! Whatever you are planning for your next trip to Paris, we hope you have an amazing time!
Read what other travelers have to say at TripAdvisor
---