European vacations are great romantic or family vacation idea. Europe has it all, culture, adventure, relaxation, shopping, walking till you drop or even shopping till you drop. Since the European Union formed it is even easier to travel within Europe.
Travelling from culture to culture within a few hours is quite easy. You could start with a croissant in Paris for breakfast, waffles for lunch in Belgium and finish with schnitzel for dinner in Germany.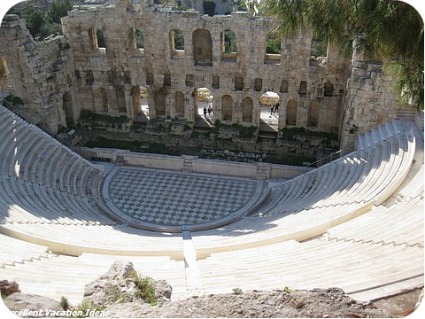 The Odeon of Herodes Atticus at the Acropolis in Athens, Greece
Our advice is to choose a couple of places to visit while in Europe and to not overdo it. We have talked to so many people who choose to vacation in Europe and try to see 10 countries in 10 days. They usually come home saying how they regret it.
Now while it is possible, you won't have time to see the beautiful sights, enjoy the food or really immerse in the culture. Some of our favorite times in Europe have been sitting in a cafe in Amsterdam watching the world go by.
Whether you are looking for romance or looking to take your kids to see their hero Harry Potter's world in England, a European vacation will be one you will never forget.
On a budget? Check out ideas on how to budget travel Europe.
One of the best places to start when choosing what to do on your European Vacation is to check out a European Travel Book.