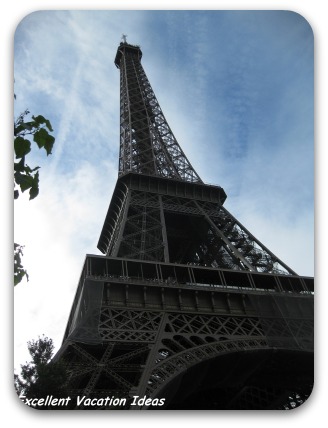 Tips and tricks on how to make the most of your trip to the Eiffel Tower.
The first thing most people think of when they think of visiting Paris is taking a trip to this monument.
You can enjoy the attraction at any time of day. The view is spectacular in the day or all lit up in the evening.
Make sure you catch the light show each evening at the beginning of each hour from nightfall until 2 am, it lasts about 10 minutes. If you can see the Eiffel Tower then you can see the light show, so it doesn't really matter where.
On our recent trip to Paris, (July of 2010), we had planned to visit it on the first day we were there. Those plans got changed and we never ended up going up this icon of Paris.
This was mainly due to my failure to plan better (yes this is where the saying "Those who fail to plan, plan to fail" comes into play). And also because we were there in July in one of the busiest months of the year.
So our options ended up being waiting for 3 hours to take a trip to the top, or enjoying it in other ways.
We chose option 2. 3 hours of our 3 days in Paris standing in line was not an option for us. Thankfully we really enjoyed Paris (more than we thought we would) so we know we will be back one day.
My goal is to help you plan and get the most out of your trip by getting the facts about the Eiffel Tower, while planning your things to do in Paris. Discover more of the facts about the Eiffel Tower every traveler should know, or see some Eiffel Tower and surrounding areas pictures I took while we were there.
Read what other travelers have to say at TripAdvisor about the Eiffel Tower