Take a trip down under with or without the kids! Oz (Australia's nick name) is an awesome romantic or family vacation. There are so many different ways to experience the beauty of the country, but regardless of this, if you are travelling there from almost anywhere else in the world, it will take some planning.
Warren and Montana in front of the Sydney Harbour Bridge
I lived in Melbourne, in 1995, while I completed a semester of University. While there I travelled to the Outback, Sydney, Queensland and the Great Barrier Reef and Tasmania.
Warren and I met right after I returned and he had always wanted to visit Australia. So in the summer of 2008 we planned and took an AMAZING Australian trip as a family!
We visited Sydney, Melbourne, Port Douglas (the rainforest and the Great Barrier Reef) and Brisbane.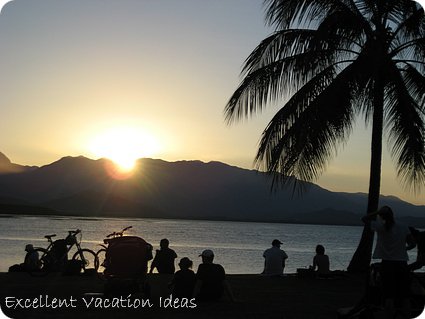 Watching the Sunset in Port Douglas, Queensland
Oz has something for everyone! Imagine beautiful beaches, incredible restaurants, a variety of accommodation, vibrant cities, scenery that is out of this world and of course wildlife and landscape that you can't find anywhere else on the planet. It is a place where you can find adventure, or just relax or do both!
It may seem far away, and not possible, but with a little planning and research and a map (you are in the right place!) you will be amazed at how easy or adventurous the trip can be!
So sit back, relax, grab a coffee or tea, and check out some of the options for your Australian vacation!
Every option can be a romantic idea or family holiday idea!