Many people dream of climbing it when they visit. I did not and in fact missed visiting it on the 2 times that I visited down under - More on that below. The number of people climbing has dropped significantly over the last 10 years.
The traditional owners of the Uluru-Kata Tjuta National park, the Anangu, don't want people to climb the rock as they don't want people to get hurt or die. They have great sadness as a culture when this happens. Also the climb signifies the traditional route for the important ancestors.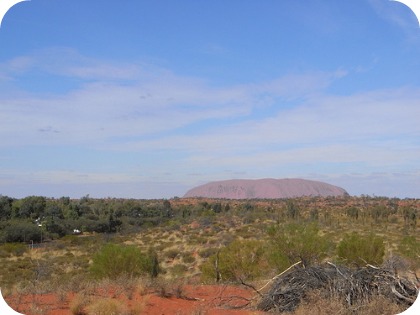 From a Distance

From a health and safety aspect, many people climb it and dehydrate due to the heat, or get hurt some other way. They will close the climb under the following conditions:
if the temperature is forecasted or reaches 36 C or above
if there is more than a 20% chance of rain within a 3 hour period
if there is a 5% chance or more that there will be thunderstorms
if the wind is 25 knots or more
if 20% or more of the rock is wet after rain
if there is a rescue
If you choose to climb make sure that you:
are healthy, avoid if you have blood pressure issues, heart problems or are not fit
don't climb if you are elderly or with young children
take 1L or water for each person climbing for each hour (it takes about 3 hours to climb)
wear sturdy shoes or boots and a hat with a strap
use lots of sunscreen - this is the Outback after all!
don't drink alcohol
use the facilities - there are none on route!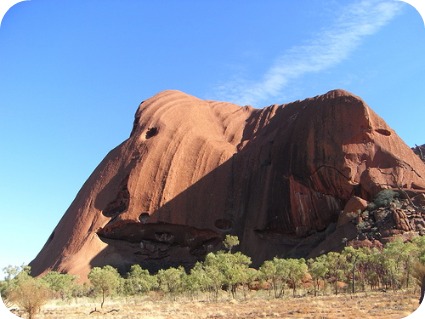 Side View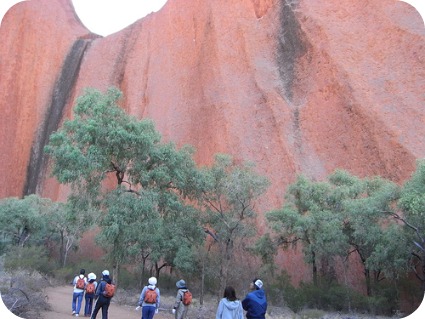 Walking around
When I did an university exchange to Oz in 1995, I took an amazing one week camping tour from Darwin to Alice Springs. I didn't go to Ayers Rock however for a couple of reasons. One I was out of time as I had to get back to school. This other was that Uluru is a sacred ground for the Aboriginals, and I was in a "righteous" phase, and didn't want to offend the Aboriginal people of the area.
As I matured and did more research, I realized that what the Aboriginal people didn't want was for people to climb on Uluru. Culturally this is because of the spiritual significance of climbing it. Climbing it was the tradition of the ancestors of Mala men when they visited the rock. I felt who was I to take the same walk at these important men who owned the land.
I now regret not visiting it and will get back there one day. I will however not climb it. Just my personal feelings.
Here are some more articles you may find interesting if you are planning a trip to Austrlaia:
---