Macau Tower
by Melanie
(Excellent Vacation Ideas)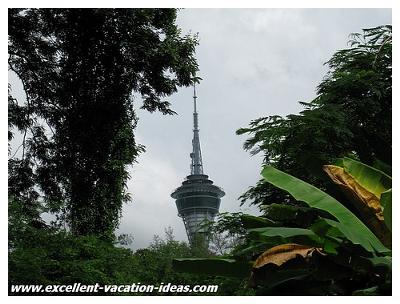 Macau Tower peaking through the trees
We hadn't planned to go to the Macau Tower on our visit, however the tour that we signed up for included a visit here. I am glad we did and would highly recommend it.

For more reviews of Macau Tower see what others have to say at Tripadvisor.

There are so many different activities to do during your visit to the tower, but it is worth it just for the view.

The view is spectacular and it was a lot of fun to watch the Bungee Jumpers and Sky Walkers with Hackett (the company running the activities). If we had more time we may have done the sky walking.

Here is a video I took showing the views from the Macau Tower.

When we go back to Macau (because we know we will) I think we will spend more time up there and try the sky walking.
For the kids there is the Toys R Us in the base of the tower, Oh and the ice cream looked really good too!
For more photos check this out:
More Things to see on Macau Tours
Join in and write your own page! It's easy to do. How? Simply click here to return to Asia Holidays.