We visited Roatan Honduras during our cruise on the NCL Jewel in March of 2010. Through our research on Roatan island, we knew that we wanted to go Zip Lining. We had done it before in Hawaii and Australia, and were excited to do it here.
The ship docked in Coxen Hole, the largest town in Roatan. We had to tender off the ship (which wasn't that big of a deal) because a Celebrity Ship was in and as it is owned by Royal Caribbean and they built the dock, they got priority.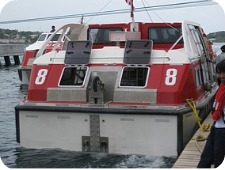 NCL Jewel Tenders
There are many different zip lining companies and after much research, we decided to go with South Shore Canopy Tours. This company seemed to have the longest and most zips which is what we wanted.
I had emailed South Shore Canopy Tours before we left and they said to find the South Shore Adventures Booth at the dock and ask for Theris Dixon. It was easy to find and Theris was great!
She arranged a great taxi driver for us and commented on how she only picked the best! She offered a tour of the island or to go to the beach, but we knew we just wanted to zip line and return to the dock for shopping and lunch.

Theris Dixon
After a short drive around Roatan Island, we arrived. I have to tell you that this was a very efficient operation. We were greeted right away and put into a group of 5 with 2 guides. The zips started right where they dropped us off.
There were some monkeys that entertained us while we got ready, although we didn't have a lot of time with them as we were suited up and ready to go in no time. The monkeys do bite and will try to grab your stuff - but they were cute!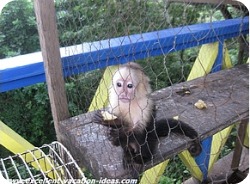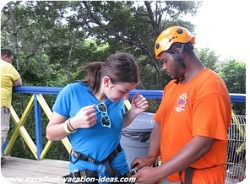 The zips were awesome! They use a 2 line system and you can control your movement and braking using the gloves they provide as part of the gear. We hadn't done it like this before - I really liked it, Warren liked the other way we had zip lined - where you don't hold on. We realized the next day that we used our stomach muscles and arms much more than we had thought we would!
You went on your own on all zips. However, Montana chose to do something more adventurous with the guide. It was a blast!
They told us that they were adding even more zips and that you would zip all the way down to the beach - that would be incredible!
Once we finished, we walked a short distance up a suspension bridge and waited a few minutes for a van to pick us up and take us back to the start point. The whole thing went well. We felt safe the whole time and the only complaint I had was that you had to hoist yourself up for the guide to unhook you.
When we were finished, our taxi driver was waiting for us, so back to the ship we went for lunch.
After lunch, we decided to go back over to the dock on Roatan Island and check out the shops.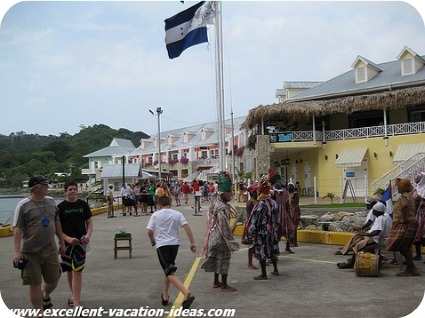 Roatan Port.
There wasn't much there and we were done in less then 30 minutes. It seemed like the same stuff over and over again. The duty free prices were not very duty free and the souvenirs were the same over an over again. Oh and they had stickers that said "Made in China" on them.
There was a guy making and selling cigars right on the pier. He seemed to always have an audience.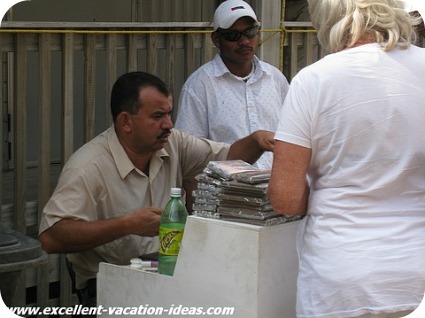 In hindsight, I wish we had gathered school supplies at home and brought them to Roatan island to donate to a school. A lot of people on cruise critic etc., have done this, and after seeing all the school kids about, I think that we would have really enjoyed that!
Check out more ideas for Roatan, and see what other travelers have to say about Roatan at TripAdvisor.