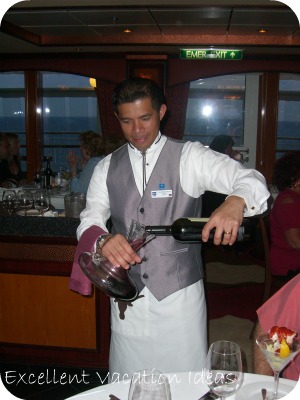 How much to tip is a sensitive subject to some cruisers in recent years as many of the larger cruise lines have changed how passengers are to tip. In the old days, you would be given a guideline of so much per day for each of the people who served you.
So lets say $5 a day per guest for your server in the restaurant, $5 per day per guest for your cabin steward and many other people. Then they would automatically charge 15% for drinks purchased at bars and other services like the spa. This got to be confusing and in some cases people didn't tip at all.
Cruising has changed in recent years. It has become much more main stream and traditional dining (where you eat in the same restaurant, at the same time, with the same people and the same waiters) is being replaced with "anytime dining" where you may not see the same wait staff each night for dinner. Norwegian Cruise Lines were the first to do this.
So many of the larger cruise lines just added an auto gratuity to your bill at the end of the cruise. Typically it is abut $10-$13 per day per guest. You can also add to that for particular crew members. If you would rather tip your crew members directly, some cruise lines will allow you to remove the auto gratuity and then you can give the gratuity to each crew member individually.
Regardless of how you do it. Make sure you do as crew members work really hard to make your cruise special, and they don't make much in salary. They rely heavily on these tips. So if you are unsure about how much to tip on cruises, check with the cruiseline.
---