It isn't very far to Maya Chan from the Port, but the road is really beat up. It took longer than it should to get there, but it was a nice drive along the beach.
Maya Chan is a private day beach resort, that caters mainly to the cruise ship excursion market. It was built by an avid cruiser, Mark and Jane Ostrow and run by their son David. Mark and Jane are avid cruisers from San Diego.
They got tired of going on cruises and doing shore excursions and Costa Maya tours to mediocre or not so great beaches. They just wanted to relax and not have to hassle with street vendors, loud music or small dirty beaches.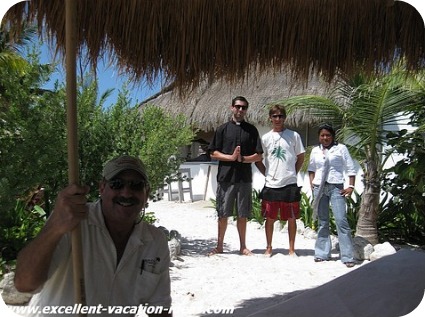 So they bought a plot of beach property in Costa Maya (a cruise destination they loved), spent 2 1/2 years building and created Beach Resort. I have to tell you they have done an incredible job!
We were told before we arrived that there would be a wedding there that day. They asked for our cooperation and asked us to stay to the North side of the resort. This was really quite easy to do.
Their customer service is amazing. Anything that we needed or wanted they would do their best to get or do for us. The best part for Warren and Montana, they had free internet! It was better than the ship that was for sure! So you can imagine how excited they were.
All of the drinks and food was included, as was the kayaks, and snorkelling gear. Zack, our "server" for the day, also offered a bike tour in the morning down the coast, and a kayak/snorkelling tour in the afternoon.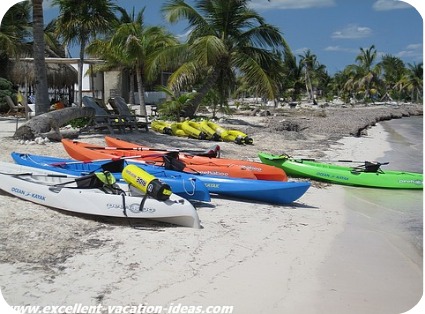 We all got massages, in fact when Montana and I were getting a massage, we could hear the wedding vows for the couple that were getting married.
David, the General Manager, got his minister license online and married the couple. It really was a beautiful setting for a wedding! David did a great job! After the wedding we all mingled in together and had lunch.

David the General Manager/Minister
Everyone had their own beach chairs and/or a palapa (covered beach bed). The staff were awesome, and would do everything they could to accommodate every guest. If you needed more shade they would bring you an umbrella. They were always around for drinks and you could go to the bar to get them.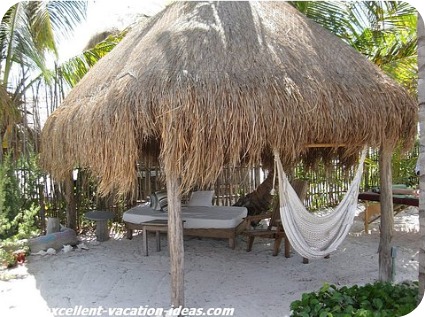 Hammocks to sway in, and fresh water showers. Lunch was great, it was chicken, steak and fish fajitas, cooked over a BBQ pit.
We were sad to leave, but Montana and I wanted to check out some of the shops. So they arranged for a taxi by 3 pm and off we went.
If you are considering this beach resort for your Costa Maya tours, and would like to book Maya Chan Beach, I would do it as soon as possible. I think that it will become very popular soon, and they restrict the number of guests they allow (which adds to the charm and greatness of the place).
At the port we did some last minute shopping and watched the other Costa Maya Tours return.
Montana decided she wanted to get an initial ring made so after some discussion with a very persuasive and flattering "salesman" she got one done. However, it took longer than we thought it would and we were in the last group of passengers to board the ship!
Note to self - leave more time to get back on the ship to avoid stress about worrying about missing the ship! Thankfully there were some Costa Maya tours that were late returning too.

---