NCL Cruise Lines private island, in my opinion, is not the best private island of the cruise lines. Now having said that we have only visited Great Stirrup Cay twice, Royal Caribbean's private island, Labadee, and Disney's island Castaway Cay. Hopefully the $20 million renovation they just announced will improve it and make it a great cruise line private island.
Recently on a cruise on the Norwegian Jewel, our last day was spent at GSC. As we aren't big beach people, we planned for it to be another sea day. We slept in and then took a late tender to the island. It was great going over as there were only 10 people on the tender. However coming back we had a long wait. We only went over to check it out as we were there before while sailing on the NCL Dawn in 2006.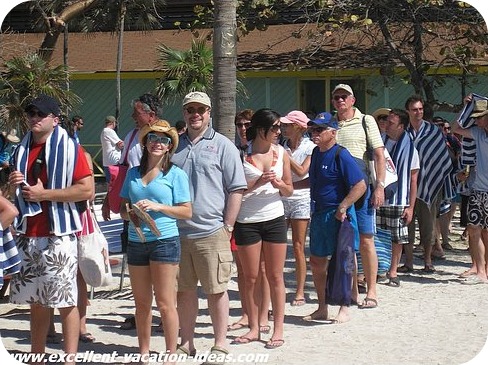 We took a lot of pictures and watched the kids and some adults on the Hippo slide, wandered through the small straw market, and that was about it. We spent a day on the beach on one of our other ports of call and were happy that we chose to do that instead.
Here are some photos from this visit:
We returned to Great Stirrup Cay Bahamas while on the NCL Pearl in March of 2012. They are almost finished the $20 million renovations and we have mixed feelings on the changes. We decided to do what we usually do on GSC days, sleep in and then take a late tender over to see the changes in the island.
It was a really rough night before on the ship as the waves were pretty high. When we arrived at GSC the Pearl was rocking in the waves, even on the anchor. The crew was unsure whether we could get over to the island on tenders. After some consideration and a trial with the tenders, they decided it was safe.
So we took a later tender over and were really surprised at the changes. The tenders now go through a channel to an area to the left of the beach.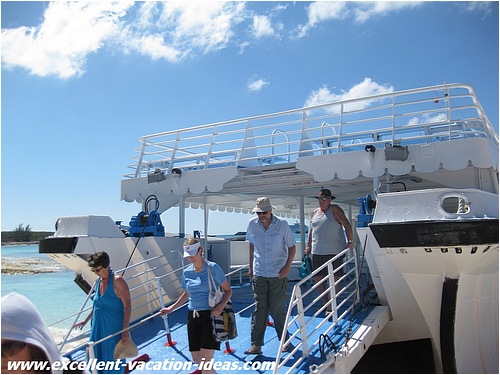 The tender area is better than before as it doesn't come right up onto the beach and take up a lot of the beach area like before. Our first impression was how bare it all was. I missed the vegetation that made it feel like a "desert island".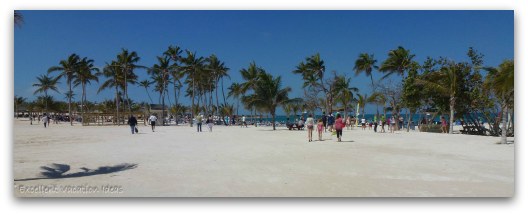 There are many more beach chairs and activities but a lot less shade.
We walked down to see the quieter beach where the cabanas are being built:

We stopped for a photo and then got something to eat.
We were happily surprised by the food options as they were much more than just hamburgers and hot dogs as with most cruise line private islands. You could have pizza, salads, chicken, sandwiches and much more. So we grabbed some lunch took some photos and were back to the quietness of the ship!
While the island isn't finished yet, I think that Great Stirrup Cay will be a great private island experience for guests of NCL ships.
Some more photos of the NEW Great Stirrup Cay Bahamas:
Check out the Activities available on Great Stirrup Cay.