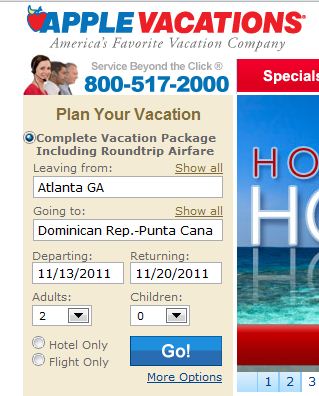 Their website and search engine is so easy to use. You can choose a destination and find hotels and resorts to browse through.
So for example, you can enter in the dates you want to travel, where you would like to leave from and go to, and how many adults and children will be travelling. You can also choose to look only for hotels, or flights, but since we are looking for all inclusive Apple Vacations, we will leave those buttons unchecked.
If you are unsure of where you want to do, but know your departure city, click on the "specials" button and enter in your departure city. It will bring up specials that are available in the next 2 months or so. It is a good place to start.
However for this example, we know we want to go to the Dominican Republic - Punta Cana.
Once you hit the "Go" button, the search engine will start chugging and show you your results. They may look something like this: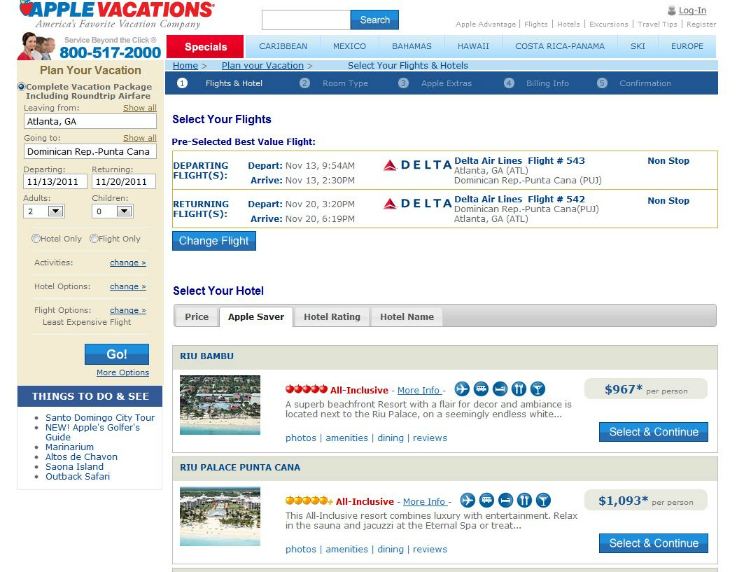 As you can see you they will have selected a flight for you from Atlanta (in this case) for your Punta Cana Vacations with not bad flight times actually. You have the option of changing flights if you want, just click on the "Change Flight" button. It will bring up options of other airlines and flight times with more than likely an extra cost per ticket.
Below that you will see four tabs, with it on the "Apple Saver" tab. This lists all the resorts by recommended by Apple Vacations and with the lowest price of those recommended resorts. If you are only interested in Price and don't care where you stay, then click on the "Price" tab and it will show you the lowest prices first.
As you are looking for Apple Vacations all inclusive holidays, look for the resorts that offer "All-Inclusive" as you can see above. You will also see a legend of what is included in the package at this resort . The first one includes your flights, transfers to hotel, accommodations, meals and drinks.
If you click on the more info button next to the hotel (for this example - Riu Bambu) you will get a pop up screen with more information about the hotel like this showing more information about the room, the facilities and the dining and entertainment options:
More importantly however, is if click on the Ratings and Reviews tabs it will take you to this page where you can see what other people thought of the property and what the reviews are on TripAdvisor: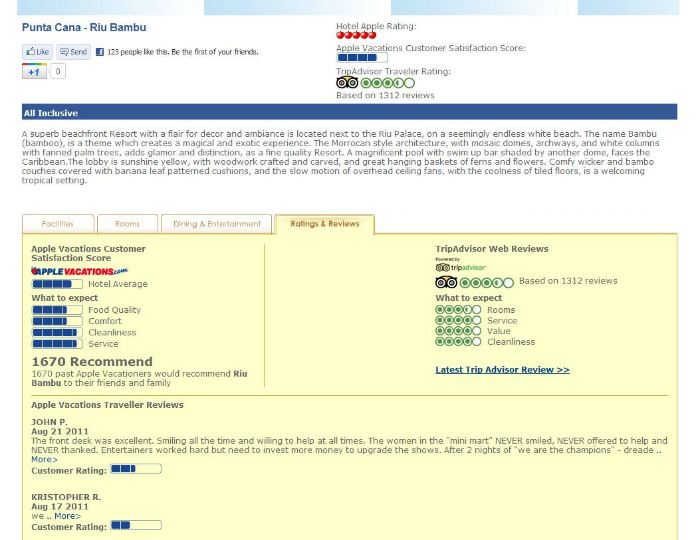 Everything you need to book an excellent Apple Vacations all inclusive holiday is right there. So go and take a look around, you can even look at and book local tours for your vacation with Apple Vacations (check out the bottom of the left hand column)