Best family vacation destinations? What are yours?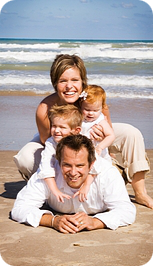 People are always asking me where are the best places to go on a family holiday. So I would love it if you can help me out!
Please share with us what your favorite Family Vacation Spot or what type of vacation you like to have with your family?
Is it camping in the Grand Canyon?
Or skiing in Colorado or Utah?
Maybe it is an all inclusive resort in the Caribbean? Or a cruise?
Does your family like to learn something while they are away together?
Maybe your family vacations have to have some adventure built in? Amusement Parks, surfing or zip lining?
Is there a certain place that your family loves to visit every year?
What was your favorite family vacation destination?
Maybe there is a particular cruise line that you just love to go on as a family as everyone has a blast.
After you have left your entry, read the suggestions below it from other visitors. If you agree or disagree leave a comment, everyone has something to add!
Consider the following when making your entry:
Vacation spot's location (if there is one)
Type of holiday
Transportation, do you drive or fly there
Is it best for older, younger or all ages of kids
What kind of activities your family likes to do together
Add what you like. We want to see it all!