Airport Delays - There is nothing more frustrating then rushing to get to the airport to make your flight on time and finding out you are delayed and have to sit in the airport for another 4 hours!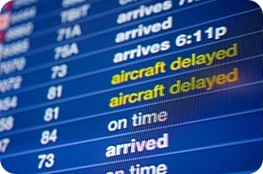 Or worse - Your flight was cancelled! You could call the airline to see if it is on time, or check out the sites below to check for flight delays or track your flight.
If you find out before you leave home, or your hotel, it could be more comfortable trying to reschedule your flights or wait out your times.
If you have a Smartphone download the airline applications. Many of them will contact you to with any flight changes. You can also go to the airline website and sign up for SMS texts to your phone if there are any changes to your flight as well.
Bookmark this site now for your next trip so you know before you go if there are any delays.