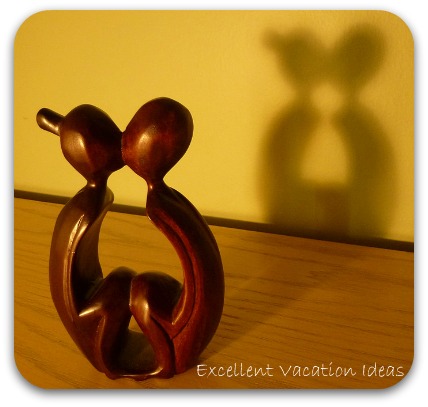 Purchasing a gift for someone while you're on vacation tells them you care.
Bringing home a well-crafted piece of art, even if it's small, that's made by indigenous people you've met; choosing a sample of regional produce; finding a book or bit of clothing that's only available where you've traveled means more to the person you gift it to than other presents.
It means that you thought about them while you were away, that you care enough about them to take time out of your vacation to buy them a gift.
And that's what gifts are all about – an acknowledgment of care and love, the desire to make someone else happy. An act to enrich their life with a token of appreciation.
Prepare for Gift-Buying

Do some research. Are there local products that reflect culture, etc? Hand-made crafts specific to the area? Foods or wines (check import regulations if you're out of country). Duty-free shops? Check import regulations and limitations before you go. It's not fun to buy the perfect gift of local cheese, for instance, and then learn your country's regulations mean the Customs Folks will have a nice dinner.


Create a Gift List if you don't have one already. What holidays and occasions, whose birthdays and anniversaries, and what special moments (communions, bar Mitzvahs, weddings) are coming up in the next year? (Click here for a list of gift-giving holidays) For whom do you buy gifts? Children, parents, best friends…it's amazing who you might forget if you don't carry the list with you!

If you'll be away for more than a week, set up a friend or relative who'll be home to receive packages – just in case you send something back on its own (see below). And remember to pack their address! Or rent a post-office box, especially if you travel regularly.



Pack for Gift-Buying


Bring an extra suitcase or leave room in the one you have. Since airlines are now charging for bags, weight the price of returning with an extra one against shipping charges. I usually take a folding bag packed in my primary suitcase on the way there – something that can fit under the seat or in the overhead compartment for delicate gifts that need special care.


Pack some bubble-wrap if you're going to a place where you might not find it. It's space consuming, so your preparation research will come in handy. Will you be purchasing breakables? Will you be buying from an established shop that can package for you, or are you heading to the Andes and plan to buy from the out-of-the-way private crafts people? Will there be shipping offices available?


Print out labels with addresses that you can take along if your research has turned up the likelihood of finding a specific gift for a specific person.



Choosing Gifts while traveling

Some of the fun of shopping on vacation is in finding gift treasures those out-of-the-way gift stores, private artisans, or My-Third-Cousin-Would-Just-Die-For-That thingy. Travel is like a treasure hunt. Keep an open mind, your occasions-and-persons Gift List handy, and a sharp eye.

Remember that some of the most meaningful gifts are those that are personal. They don't have to cost an arm OR a leg. A photo of an incredible, inspiring sunset over La Tour Eiffel blown up and framed can be the perfect gift for someone you care about.

Local is the Focal Point. If it's produced or created only where you're traveling and not available elsewhere (tough to find something like this in our global markets) – buy it! Buy different versions of it and give it to people in your life who don't know each other! Even if it's small, it's a piece of your vacation that you're bringing back to others. And even if it is available at your local 10,000 Villages store, buying, say, olive oil while in Italy, with an Italian label, makes the gift special to the person who receives it.


Making Gifts from your Travels Meaningful to Others
While it's special enough that you thought of someone while on vacation and bought them a gift while away, you can add that special touch to your gifts when you give them.



Slip a printed photo of the place where you purchased the gift, or even a snapshot of the artisan if it's a craft item into the package.


Write up a description of the place, person, or even a journal-like entry of when you found the gift.


Use your research and include a note about the gift and where it's from.


Use a picture postcard from your travels instead of a gift card.
And when you get home, remember that you can't keep it all for yourself!
When you unpack label each item with a tag of who it's for, where it's from, and which occasion or holiday you'll be giving it. If you have more than a few travel-found gifts, keep an overall list so you remember, six months from your return, that you already have that miniature real-wool sheep from Scotland for Aunt Ida-the-Knitter's Christmas stocking!
Happy Travels! And have fun Shopping!
For more on meaningful gifts for any holiday or occasion, visit http://www.best-meaningful-gifts.com.
Article written by Batya D. Wininger, from Best-Meaningful-Gifts.com
Return to the top of Buying Gifts When Travelling
---