City Center Las Vegas, Sirio Restorante
by Melanie and Warren
(Toronto, Canada)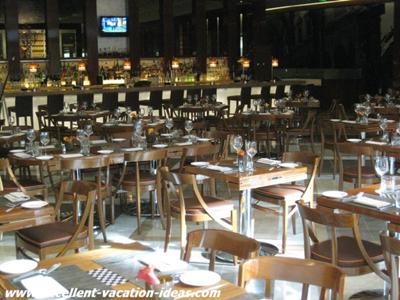 Sirio Restorante in the Day (forgot to take one that night)
City Center Las Vegas - Recently we stayed at the new Aria Hotel in the City Center in Las Vegas. It opened in late December 2009 and one evening we dined at Sirio Restorante by Chef Sirio Maccioni.


It was fantastic. From the ambience, the service to the wine to the food, We would highly recommend it.
We only had 1 hour as we were going to see the Cirque Du Soleil - Viva Elvis, and our server, Santiago (Pablo), was incredible at making sure we had a wonderful meal despite our time constraints. In fact, he was confused when we said we had tickets to the show and was concerned as the show is usually dark on a Thursday - so he called over to make sure that the show was on.
He brought the menus right away and took an appetizer order. The Insalata Caprese was to die for, and the Prosciutto took me back to Italy.
Warren had angel hair pasta with a Rose sauce and chicken – it was incredible and the leftovers tasted just as good the next morning for breakfast.
Warren chose a Chardonnay for his wine, and wasn't too fond of it. Our server said no problem and suggested one of two wines (reds). Before we knew it he had brought a tasting of both over and Warren chose his suggestion – the Chianti. He enjoyed it so much he purchased a bottle the next day!
I had the scallops wrapped in prosciutto (can you tell I am a Prosciutto fan?) and again they were incredible!
We never felt rushed, enjoyed a lovely meal and will definitely return!
See what others have to say about Sirio Restorante at TripAdvisor
Have you been to Sirio at the City Center Las Vegas yet? We would love to know what you thought – comment below