La Sandia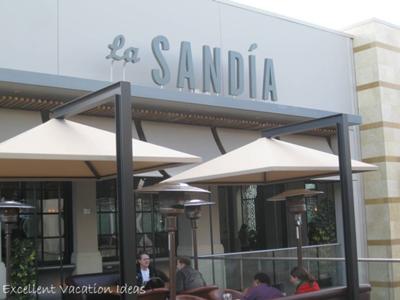 La Sandia
Home > California Vacations > La Sandia

On a weekend getaway to Santa Monica, Warren and I enjoyed a great meal at the Mexican Restaurant La Sandia on the third floor of the Santa Monica Place.

We were looking to find somewhere to have a great lunch and asked the concierge at our hotel, The Fairmont Miramar Hotel and Bungalows. He suggestes Ls Sandia. We wandered up the Third Street Promenade checking out other restaurants, but Warren held out for the Concierge's recommendation. And were we ever glad we did!


We found La Sandia on the third level and were seated in the lovely courtyard area of the restaurant. The decor was spot on Mexican and was just what we were looking for.

The wait staff were great and since we are big guacamole fans, we ordered the Guacamole which was advertised as made right at the table.

After our drinks came, the Guacamole arrived in what looked like a 40 lb volcanic rock bowl. The server had all the awesome ingredients in the bowl and then he chopped it all up right in front of us! It was the best guacamole we had ever tasted!

Next came my Quesadilla and Warren's Chicken tacos. The Quesadilla was out of this world! No dessert for us as we were full from the guacamole and the chips it came with.

Overall we will go back the next time we are in Santa Monica!

Find the best deal, compare prices, and read what other travelers have to say at TripAdvisor about La Sandia and other Santa Monica Restaurants
Join in and write your own page! It's easy to do. How? Simply click here to return to Your Ideas for California Vacations.