Norwegian Sun
by Beverly MacDonald
(Vancouver BC)
The Norwegian Sun
Photo from Ho_hokus

The Norwegian Sun ship was interesting. It is not laid out very well as we had to walk from one end to the other to get to areas we were going to such as meals, the pool, activities..nothing seemed to flow into anything else or make sense when it came to lay out.

The buffet had a flow problem also in that both sides were different and thus people broke in and out of lines to get food. The wok station was in the middle of one side and when waiting a person did cause obstruction in the line and back up at times. Food was limited also in that seldom was there chicken or fish, but there was more of a "fast food" atmosphere, which was definitely not the case on the Princess. Seldom was there vegetables to choose, although to be fair there were good choices for salad. The cruise promoted "freestyle cruising" meaning no schedule or "have to times to do things"...not correct.

Everything was on a schedule and a tight one at that..meals were definitely not available at any time, except in ROOM service. Most of the eating areas were closed between hours of 3-530 and breakfast over mainly at 1030 am. Nothing after 12 midnight, again except for room service.

As much as 13 restaurants are available?? Not on this ship. The dining rooms were better and had good service most of the time, tho one day, the Saturday of the cruise return trip we had 1.5 hrs for lunch in the restaurant and it was obvious by the way the staff was pushing and rushing for all of us to be out and gone by the designated time.

One eating area" Pacific Heights" promoted lighter cooking, but there was a need for reservation in the evenings and that was never communicated at all until you went there to try to get in. Also during the day for lunch only, there was pasta and pizza, nothing else available including tea or coffee...nothing!!!

Our cabin stewards were not very good at their job and we made the mistake of giving them the benefit of the doubt and reported only on the second last day of the cruise..to little avail.

The beds were never actually made...just the
top cover pulled up. The floor had not been actually vacuumed....the little attention to details which so impressed me on the Star Princess were totally missing.

Entertainment was fantastic and we even got to speak to some of the entertainers during the trip. The music was wonderful in all areas, except for the Karaoke night, it was awful and definitely not encouraging for anyone to participate.

Space was very limited during meal times in all areas. My daughter and I never did get to eat any meals in the Garden Buffet indoors, we had to go out on deck always, and not always was that conducive to a good, warm and happy meal time.

I believe this was because of the scheduled meal times for everyone. The chocolate night was a huge surprise and so wonderful, as was the crew night.

Having a long stay in Skagway was different but gave us the time to do the White Pass trip which was well worth it.

We did love the scenery, the food was great on the whole and Erin felt she was in heaven most of the time. I would not actually recommend this ship and will not do a trip on her again.

We were totally surprised at the 12.00 a day surcharge per guest which I was not aware of until the final billing. The cruise was from Vancouver to Alaska and the time waiting for the Sawyer glacier was brutal, it would have been so wonderful to have a blanket and hot chocolate.
Click here to read or post comments
Join in and write your own page! It's easy to do. How? Simply click here to return to NCL Cruise Reviews.
Norwegian Sun -- No Frills Cruise
by Arandas
(Newtown, PA USA)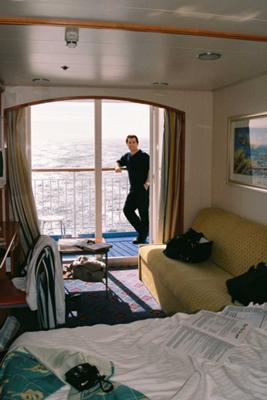 NCL Sun Balcony Room
My girlfriend and I sailed the Norwegian Sun from LA to Vancouver. And even though we read the reviews and used an experienced travel agent, we were caught by surprise by the surcharges. This was not what NCL led us to expect.

Here's how it works. Most cruises are all-inclusive. You pay one price that includes your stateroom and meals. The problem is that many people don't care about good food.

When we wanted good food, we had to pay extra to go to the 1st class dining rooms. Total surcharges ran $40 to $60 for each couple for each meal. Even so, the quality was only that of a good diner.

Of course NCL doesn't call them 1st and 3rd class. You're just supposed to understand what "Freestyle" means, like knowing that "ice beer" had more alcohol even though it wasn't promoted as such. Even if food is not a big deal to you, I can't see that NCL is a good value. The freestyle cruise costs just as much as an all inclusive cruise, but there's no midnight buffet, no dressed up waiters, no towel folding, no formal night, fewer activities -- nothing to make it a fun holiday or a special occasion. RCCL and Carnival cost about the same and give you much more.
Click here to read or post comments
Join in and write your own page! It's easy to do. How? Simply click here to return to NCL Cruise Reviews.