Royal Caribbean "Freedom of the Seas"
by Michelle
(Oakville, Ontario, Canada)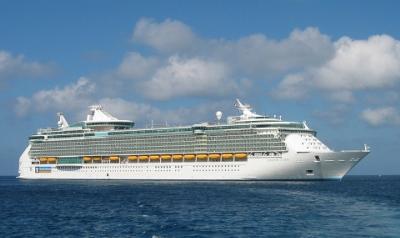 Freedom of the Seas
Photo of the Freedom of the Seas by Thrandur from Digital-Photo-Web.com, used with permission.

This was my first cruise, and it was quite an experience! It was a 7-night Caribbean Christmas cruise with my husband and 8-yr old son. We met my family from Scotland on the ship... my aunt, uncle and 18-yr old cousin. The ports of call were St. Thomas, St. Martin & Cococay (the cruiseline's private island in the Bahamas).

The ship was extraordinary, since it's the 2nd largest ship in the world. It came complete with a rock climbing wall, ice rink and surfing wave pool. So all the amenities were fabulous, the shopping was fabulous, the food was really good (although the general concensus was that the formal dinners looked better than they tasted).

There were tons of activities, so we never lacked for things to do. The live shows in the theatre were exceptional... Broadway quality. The staterooms were spacious enough and extremely well organized with closet space.

My son spent some time at the Adventure Ocean kid's club, for which we have mixed reviews. It was fantastic as far as having long and flexible hours so your child could come and go according to your schedule. They did lots of games and activities (crafts, etc.). But the big disappointment was there were no cruise or holiday-type activities for the kids to do. So they never got to go swimming, rock climbing or snorkeling with the kids club... it was all indoor activities. That was a drag for us since it was really no different for our son than his daycare at home. I had expected the kid's club to do fun, cruise-type activities with the kids. I don't think I'll do another cruise with my son while he's young unless I can find a cruiseline that offers this.

The only other thing that wasn't perfect about the trip was how crowded the ship was. Even though a couple of hundred passengers never even made it on the ship due to snow storms delaying flights in the northern US, it was still jam-packed with people and always very busy.

Overall, I highly recommend the ship and the cruiseline!