Serendipity 3
by Melanie and Warren
(Excellent Vacation Ideas)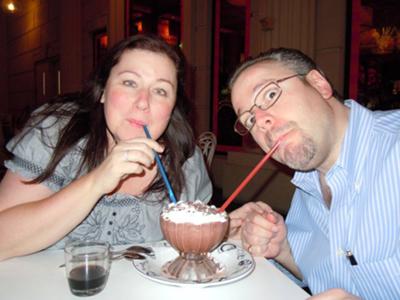 Yummy Frozen Hot Chocolate - the Serendipity 3 Specialty
We tried Serendipity 3 one night on our last trip to Las Vegas. We were looking for appetizers and dessert as we were tired of big meals. Our new friends, Carmen and Jim from Virginia, suggested that we go to Serendipity 3 on the strip at Caesars Palace.


It was a Saturday night and we were worried that we wouldn't get in. We called for a reservation but couldn't get one until 10:30. That was too late, so Warren called his Casino Host to see if they had a faster line for Diamond members (if you play at a Harrah's Property you can get Diamond status which gives you faster line service and other bonuses and comp). They did! So we took our chances and took a cab to Caesars Palace.
When we arrived, to our surprise, it wasn't very busy at all. In fact we got a table right away on the patio facing the Las Vegas Strip!
Being November it was a little chilly in the evening. The hostess told us that the heaters only came on if it hit a certain temperature, later however when we asked to be moved inside, Carlos, our awesome waiter, turned them on for us. It was nice and toasty then!
As Warren is a Diamond member, they placed a VIP sign on our table. We didn't know why, but soon we would.
Warren and I ordered the Serendipity 3 specialty, a Frozen Hot Chocolate to enjoy (as you can see above) and added Kaluhua to it! It is Oprah's favorite after all! When the manager brought it out to us, she thanked us for coming in as because we were Diamond members the Frozen Hot Chocolate was on the house! Wow that is a nice perk!
Warren and Carmen had the Chicken Fingers - which may have been the best I have ever tasted, Jim had the Kobe sliders and I ordered the potatoe skins. It was more than enough food and somehow we ended up stuffed, even though we were looking for a light meal!
Carmen and Jim decided to take a piece of cake back to their room. It was a HUGE piece, so they offered to share it with us. We took ours back to our room and it made a great late night snack.
DON"T MISS Serendipity 3 the next time you are in Las Vegas. We heard that it would be a long wait to get in in busy times, so plan accordingly!
Thanx Carmen and Jim for the suggestion!
See what other people have to say about Serendipity 3 to say at TripAdvisor
Visiting Las Vegas? Find Deals, Compare Rates, and Read Hotel Reviews on TripAdvisor