Smokey Bones
by Buffy
(Orlando, Florida)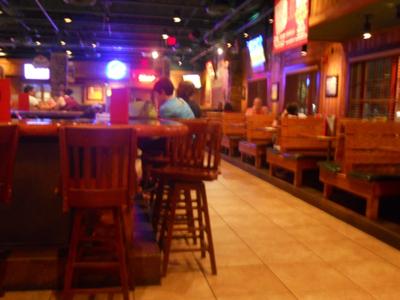 Smokey Bones (Sorry photo is fuzzy - a new one is on it's way)
Smokey Bones is one of the newest Orlando, Florida restaurants that my husband and I frequent. They have good food and great drink specials. Plus, you can always find some pretty impressive coupons on the web or in the paper. Often time $10 off of $20. Those types of coupons excite me!

They also have a frequent diners club that gives you a point for every dollar you spend. Plus you can rack up points by getting signature items off the menu or for signing up on the website. After 200 points you get $20 to spend on food and drink. We have been visiting Smokey Bones for about a year now and have gotten about $60 free so far!

The inside is your typical sports bar. They offer fun things to do most nights of the week after 9pm. It's a great place to go to enjoy a meal and to chill out.

Buffy from Orlando Florida Local

---
From Melanie:
Thanks so much Buffy! I have some good friends that are spending about 10 days in Orlando soon with their parents, their siblings and their kids, celebrating their parents 50th wedding anniversary. This looks like a great place for them to have dinner out one night. I will send it to them.
I looked up the locations in Orlando and there are quite a few, including one in Kissimmee (closer to Disney World), one on E. Colonial Dr and a few others so check their website for locations and menu.
I also check out the reviews on TripAdvisor and the reviews are great! 4/5 "stars" and ranked #252 out of 1,387 restaurant reviews in Orlando as of the time of posting this review. There are many people who return often to this BBQ restaurant.
Looks yummy too!

This photo of Smokey Bones BBQ is courtesy of TripAdvisor
For more reviews of
Smokey Bones at TripAdvisor
Join in and write your own page! It's easy to do. How? Simply click here to return to Orlando Florida Restaurants.