Wan Chai District and Computer Centre
by Melanie
(Excellent Vacation Ideas)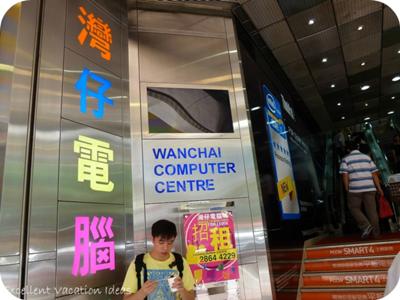 Wan Chai District Computer Centre
We visited the Wan Chai District and in particular the Wan Chai Computer Centre. On our trip to Hong Kong, I realized that I really needed another and a bigger sd memory card for my new camera. I suggested that we checked out the Wan Chai computer Center.


After a short MTR (subway) ride with one change of trains (which is really easy to do) we found the centre. It is 3 floors of small computer shops where you can buy anything for your personal computer, laptop, mobile device or camera. We found 2 32 GB SD cards for about 400 HKD. We knew that this was a deal as we had looked in main stream stores and were happy with that.
We also found a camera case for less than 100 HKD and a mouse that Warren was looking for. It was a successful trip for us.
We found that over all the prices were similar to home, but there is no sales tax in Hong Kong, so that may make the price less for most people.
It was quite hot in the centre, although we visited in July. I wouldn't suggest going if you only have a little bit of time in Hong Kong, but if you do have some time it is ok for electronics. I think that you could find them in other cities cheaper.
Join in and write your own page! It's easy to do. How? Simply click here to return to Asia Holidays.