To be honest, it never really crossed my mind to use biodegradable sunscreen until I saw it at online. Then it made perfect sense to me, especially if it provides the protection we need, and helps the lakes, animals and oceans we visit.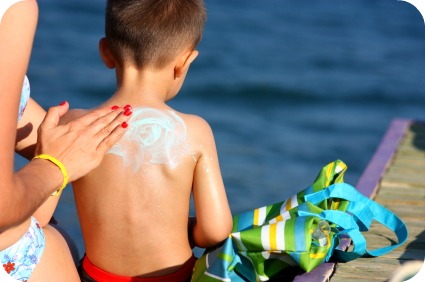 As a former scuba diver, I know how important it is to protect the reefs and ecosystems that we dive in. We did everything we could to protect those reefs by not touching the coral, or by not wearing gloves in case we did touch the coral as the gloves would kill it immediately. I have even been know to collect garbage I found on the bottom of the ocean and bring it to the surface. My little way of helping to clean up the oceans.
Unfortunately, most regular sunscreens are made with chemicals that could hurt the reefs and ecosystems we enjoy. Also many people are looking for alternative products that are natural and are not petroleum based to protect their families from the sun.
Reasons to Use Biodegradable Sunscreen:
Regular suncreen has many chemicals that can harm the skin of kids and the environment - Can cause rashes and other issues. For the most part Biodegradable sunscreen is safer as it is made with more natural ingredients.
Kids are always putting their fingers in their mouth, reduce the number of chemicals they ingest.
Reduce your chemical exposure
Some attractions won't allow you to wear or use regular sunscreen as it can be detrimental to the attractions - for example, many of the ruins and temples in Mexico
Better for the coral and fish life if you are snorkelling or swimming in the ocean or lakes
Biodegradable sunscreens reflect the sun's light back instead of absorbing it through chemical reactions.
If you have sensitive skin, it won't irriatate it like regular sun protection.
Here is a video on sunscreens and the oceans (the audio is great, but the video isn't so great):
Below you will find a number of different sunscreens that are biodegradable. If you have a favorite sunscreen that you use, please feel free to add it here. If you use any of the sunscreens listed here, please click on it and then at the bottom of the page, comment on how effective they are for you, or anything you would like to add about it.
Check out some other cool travel gadgets, approved by the TSA Locks, Travel Converters and Luggage Scales.
---