Hudson Beach Florida
by Melanie
(Excellent Vacation Ideas)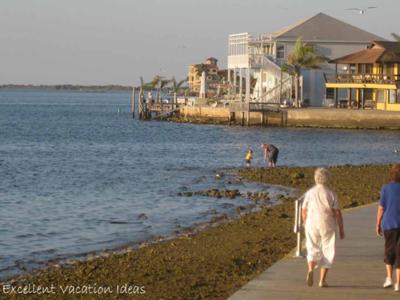 Hudson Beach Florida
Hudson Beach Florida is just a little north of Tarpon Springs on the gulf coast of Florida in Pasco County. My parents call Hudson home in the winter. I could never figure out why they would want to live in such a small town, but I soon understood why.

Hudson Florida is a quiet community that feels like the "real" Florida. That is Florida without the amusement parks, crowded beaches and traffic. It still has all the amenities that you could want or need, and is a short distance from all of the attractions of Tampa, Clearwater and St Petersburg. Even Mickey Mouse lives only 90 minutes away in Orlando.

Hudson Beach Florida is a boating and fishing community. Many houses with boats line the canals and there is a marina and boat access to the gulf.

The beach itself is quite small, and doesn't compare to the beauty of Clearwater Beach. But it has it's charm, picnic tables, a lookout, a children's play place and a spectacular sunset.
One of my favorite evenings out in Hudson is having dinner at Sams - Pasco County's only Gulf side dining (so says their sign) and watching the sunset. The food is traditional Florida and isn't the greatest, but that isn't what you are there for. You are there to enjoy a drink, and the sunset. Get there early or you won't find a parking spot or a table at Sams.
So if you are looking for a quieter or cheaper Florida vacation idea, look at
renting a house
in the Hudson Beach area. If not and you make the trip north from Clearwater make sure stop in at Hudson Beach for the sunset!
Join in and write your own page! It's easy to do. How? Simply click here to return to Florida Vacation Guide.