If your vacation plans include Tampa and the surrounding area then you may visit Clearwater, St. Petersburg, Treasure Island, Madeira Beach or Caladesi Island.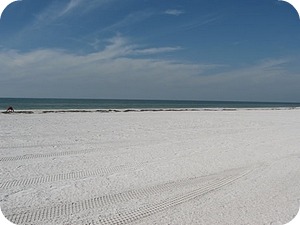 If you aren't done with amusement parks then Tampa has Busch Gardens - which if you and your family like roller coasters - this isn't to be missed.
This is also the main airport for the Gulf side beaches. Clearwater beach has been named one of the top 10 beaches numerous times. There are world class restaurants, sporting events, Broadway type entertainment and hotels.
It is a great area to visit - especially if you want to do part of your Florida vacation in Orlando and part at the beaches. The beaches are less than a 2 hour drive from Orlando.
The beaches on the Gulf of Mexico - known as the "Gulf side" of the state - offer calm sandy beaches. Great for beachcombing, and swimming - the water is colder in the winter but lovely and warm in the summer.
Tampa has also become a big embarkation port for cruises, if you do choose to cruise out of Tampa, make sure you spend a couple of days enjoying the area.
We visit the Tampa area at least once a year as my parents have a house just north of the city in Hudson. We love to hang out, shop and enjoy many of the great restaurants like Datz Deli, and Carmines in Ybor City. We also like to make a day of it and visit St. Petersburg, and Johns Pass in Madeira Beach.