Orlando Florida vacations are great family vacation ideas, and in my opinion, every kid should see Disney while they are a kid. Not to sound too clichéd, but it really is a magical place. But don't discount it for a
romantic vacation
either.
Located in Central Florida, is where you will find the excitement of the amusement parks, as most of them are located here. Walt Disney World is the King of the parks here, but don't discount the others.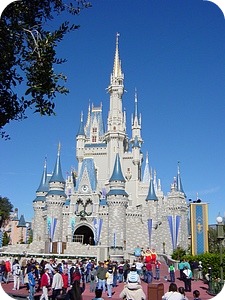 Depending on how much time you have in Florida will decide how many parks you will want to visit. Disney alone has 4 parks, plus 3 water parks, plus Downtown Disney, plus Paradise Island, not to mention all the hotels and resorts on property!
Make sure you buy your tickets to Disney before you get to the parks to avoid the long line ups. We recommend getting a multi day pass. A five day Magic Your Way Ticket allows you unlimited access to all 4 Walt Disney Parks with the Park Hopper option.
For a GREAT book on getting the most out of your Disney trip try The Unofficial Guide Walt Disney World (Unofficial Guides)
.
Check out Dad's Guide to WDW for more about Disney! He even has a free eBook about Disney World. "Walt Disney World Basics - The Theme Parks" takes you on a short tour of the worlds most innovative and family friendly theme parks ever designed.
Then there is the Universal Studios and Islands of Adventure, plus their Universal Walk - many restaurants, shops and a movie theatre. And if you are there at Halloween, don't miss Universal's Halloween Horror Nights. It's a scary good time!
Then don't forget Seaworld and Discovery Cove. If you like marine parks, these aren't to be missed during your vacation.
When you just can't bring yourself to go to "another amusement park", there are many other things to do like:
Golf courses,
Shopping at an outlet mall
Souvenir stores
fun houses and mini golf
Great restaurants
Other water parks
and you can even do indoor sky diving!
With more days of sun then not, the weather usually makes for an ideal vacation, just make sure you check before you book your trip to make sure the climate is as you like it.
Find the best deal, compare prices, and read what other travelers have to say about hotels in Orlando
You can fly directly into the Orlando International Airport for your vacation in Florida.
While visiting central Florida is great, I would recommend that you divide your time between Orlando and one of the beaches areas. This way you get a taste of Florida other than just the entertainment capital. There is so much more to this state then just the entertainment options in Orlando.
Do you have any favorite Orlando Restaurants - please share them here.
Find and book Orlando tours and activities on Viator.com. Book ahead to save time and money!