Datz Deli, Tampa
by Ashley Cotter-Cairns
(United Nations of Beer)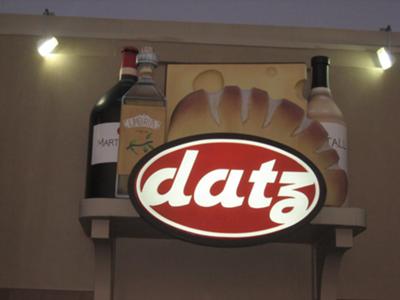 Datz Deli Tampa
Datz Deli, Tampa
2616 South MacDill Avenue
Tampa, Florida 33629
Tel: 813.831.7000

You could do serious damage to yourself at Datz Deli Tampa. Whether you're on a 12-step program, on a diet, believe that "beer" begins and ends with Coorsweizer, or terminally short of cash, Datz has a distraction for you!

For one thing, Datz has an extensive -- and I mean Extensive -- beer menu. 80+ ales won't break records, but you could spend an entire fortnight's vacation close by to this fine establishment and still not drink your way through the entire list. Wine lovers are also spoiled for choice.

Datz Deli is a Tampa must-see, even if you don't partake of alcohol. The food is what I like to call high-end mid-range; not overly fancy, you don't need to learn a second language to order stuff, and you won't take home three days' worth of leftovers -- there's no huge quantities to make up for a lack of flavor.

Portions are generous but not stupidly huge, the chef shows some imagination but stays true to style, and whatever else you do, save room for dessert. The gelato at Datz Deli in Tampa kicks commercial ice-cream's butt, and won't do the same to yours -- the Italian favorite is much lower in fat than ice-cream, yet is among the most delicious frozen dessert I've ever had.

Don't get lost on your way to the bar, because you may be doomed to wander drooling between fridges laden with imported and specialist cheese, bread, cake, preserves and, yes, more beer (they have fridges full of craft brews to take away).

Datz Deli is somewhere special. Make time for it when you're in Tampa: you won't be sorry.
Join in and write your own page! It's easy to do. How? Simply click here to return to Florida Vacation Guide.
Carmines Restaurant
by Melanie
(Excellent Vacation Ideas)
Carmines Restaurant
See more reviews of Carmines Restaurant at Tripadvisor.


Carmines Restaurant in Ybor City.
On a recent trip to Tampa for a conference, a bunch of us (20 to be exact) decided to take a trip down to Ybor City.
One of the conference attendees is from the area and suggested that we try going to a Cuban restaurant in Ybor City. It was really yummy!
What was even better was that they could accommodate all 20 of us on a Friday night! It could have helped that we were there in between the dinner rush and the night club rush :-)
One of our party (Thanx Louann!) ordered a variety of appetizers so we got to try many different items including fried green tomatoes (my first time and they were awesome!), calamari, and onion rings. I then had Palomilla steak as I wanted to try something Cuban. It was really awesome!
I would recommend Carmines Restaurant in a heartbeat to people visiting Ybor City in Tampa Florida.
See more about
Tampa Florida Vacations
here.
Find the best deal, compare prices, and read what other travelers have to say about Tampa Florida at TripAdvisor.
If you have visited Carmines Restaurant in Ybor City, please comment below we would love to hear your review and experience of it!
Join in and write your own page! It's easy to do. How? Simply click here to return to Florida Vacation Guide.