Bette Midler has enjoyed a long and successful run at the Coliseum at Caesars Palace in Las Vegas. Unfortunately, however, all good things must come to an end and the show ended January 31, 2010. The Headliners at the Coliseum are:
Shania Twain - one of our favorites!
Celine Dion is back!
Rod Stewart
Elton John is Back! - Loved his Red Piano show! Can't wait to see this one!
The Devine Miss M., Bette Midler in Las Vegas, was the first entertainer to be announced that would be replacing Celine Dion's Show, A New Day that ran for the previous 5 years.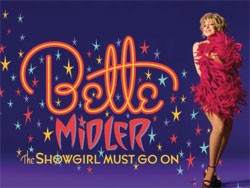 Bette Midler is a four time Grammy winner, an Emmy winner and a Tony Winner. She has had four #1 chart topping singles and had created an amazing and devoted fan base. There is little that Ms. Midler can not do in the world of entertainment.
Ms. Midler's show is a variety show that is sure to please the audience. Her sense of style and humor come out in the Vegas themed show.
Click here for some more Las Vegas Things to Do