There's no place like Rome!
by Cath
(Le Marche, Italy)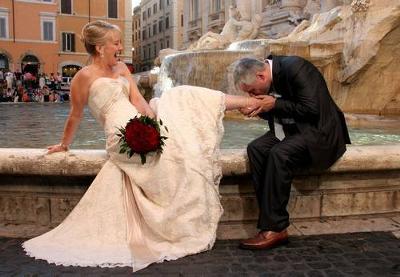 Our wedding day, taken at the Trevi Fountain, Rome, Italy.
Rome, Italy. For romantic destinations it cannot be beaten.

When my husband and I were first together I took him there as a surprise birthday gift. We both fell in love with it, and each other, while walking its cobbled streets.

Why?

Because although it's a capital city Rome has so many romantic places to "be". Yes, you can spend all day "doing" things if you want to. But to sit at a restaurant overlooking the city at dusk and watch the lights come on one by one and light up all the famous monuments you've dreamed of seeing is magical. To stand on one of its many beautiful bridges and watch the sun set across the river over the Basilica of St Peter's can reduce a grown man to tears. To take a walk in the beautiful Borghese Park at a weekend and see kids dressed up as dogs or rabbits or sheep (!) just because it's Sunday and everyone is happy, makes you feel good. To stand inside the Colosseum without taking a guided tour that rushes you round, and marvel at its size, and wonder how they built it without modern machinery makes you feel the wonder of an amazing civilisation.

To sit at a cafe on the Campo dei Fiori in the early morning and watch the local market unfold amidst the constant friendly banter, to sit at another one in the Piazza Navona and eat the best ice cream in the world, to wander round the tiny Piazzas in the old Trastevere district and enjoy a glass of wine with a simple but delicious pasta lunch ... How much more romantic can you get?!

But there are two really completely absolutely amazingly romantic things which no other place in the world can top Rome for. To throw a coin into the Trevi Fountain (left hand over right shoulder is the only way to do it!) knowing that it means you'll come back to this amazing city is one of the best feelings in the world. To do it in the early morning light when there's almost no-one else there gives you an indescribably warm feeling. You know for certain you'll be back.

But best of all - to walk down the Spanish Steps in your wedding dress, having complete strangers wishing you "Tanti Auguri" - a thousand happinesses - really cannot be beaten for a romantic experience.

Yes, that's why Rome is the most romantic place in the world for me. I got married there.


---
From Melanie:
Wow! Thanx Cath for sharing your favorite romantic destination. I have to agree with everything you wrote about! Warren and I spent the first 4 days of our Honeymoon in Rome!
One of my favorite days EVER with my husband was spending the afternoon in the Piazza Navona, drinking coffee, eating pizza and watching the world go by.
For more
Romantic European Vacation
ideas.
To
Explore Italian Culture
check out Cath's awesome Website!
Join in and write your own page! It's easy to do. How? Simply click here to return to Romantic Travel Destinations.