The world famous hotel, Raffles was on the top of my list of things to see and do when we visited this awesome destination. I was excited to learn that the Fairmont, where we stayed, was right across the street. This made finding the Long Bar to taste an original Singapore Sling easy! We also had a view into the Raffles from the tower at the Fairmont. It is an absolutely beautiful property!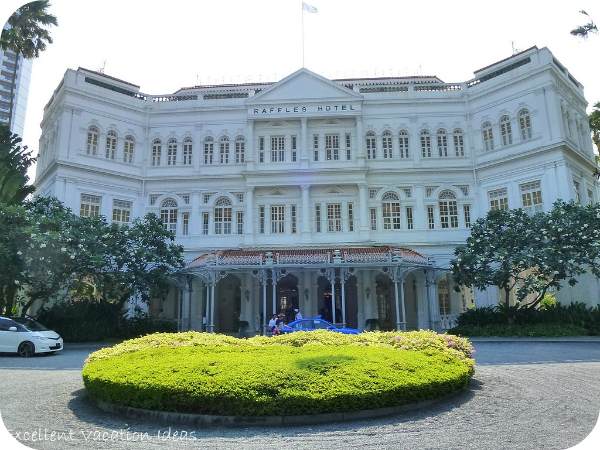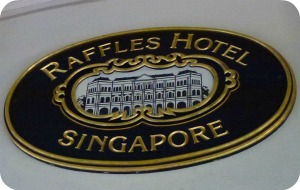 The historic Raffles Hotel is incredibly luxurious and protects it's guests (as it should). Unfortunately the only way that you can see in the lobby is if you are a hotel guest. This makes sense as it is one of the most sought after attractions.
So I will have to go on others advice as to the experience of staying at Raffles. Most say that it is everything you would think it should be. Excellent service, beautiful rooms and pool area, and an incredibly attentive staff, without the stuffiness of other hotels of this calibre. I can attest to the grounds however.
This hotel was everything I imagined, beautifully historic and landscaped. One thing I couldn't figure out though was why the driveway was made of pebbles. I am sure there is a reason, maybe to make you feel like you are back in time as well as in a new Asian city.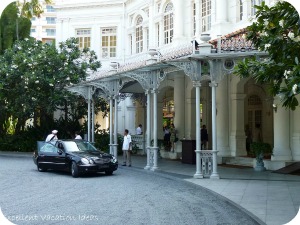 As you arrive by taxi or car, you will be greeted by the valet, dressed in the traditional Indian clothing with a warm welcome and escort into the lobby.
This property ranked #7 and 4 1/2 stars for hotels on TripAdvisor, with over 400 reviews.

This photo of the Raffles Pool is from TripAdvisor.

More of our photos of the Raffles Hotel: