If you are looking for some Anguilla Restaurants - Gwens Reggae Bar and Grill is a great way to spend a relaxing afternoon on Shoal Bay Beach in Anguilla.
It's a great way to spend a Sunday afternoon, as the entertainment is supposed to be great! Even if you aren't there for the entertainment, hang out with a book, or if the weather works then go snorkeling.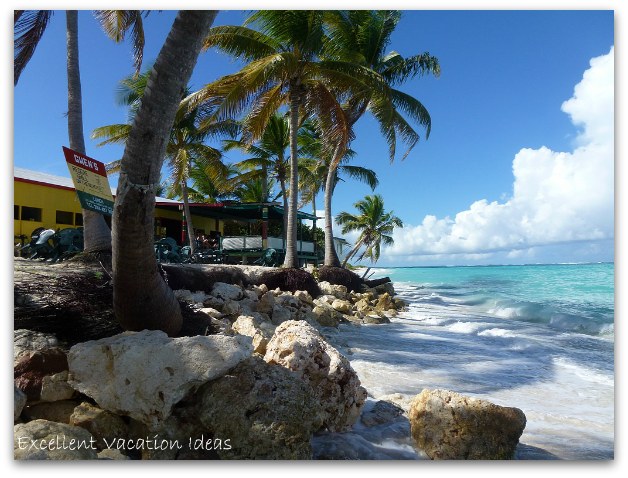 On the last day of a 5 day trip to Anguilla for a conference, (unfortunately it was a Monday) a bunch of us had lunch at Gwen's Reggae Bar and Grill. Our hotel, Paradise Cove, arranged a 2 hour tour of the island of Anguilla, we arranged for 18 of us to have lunch and spend a couple of hours on Shoal Bay Beach at Gwen's Reggae Bar and Grill.
We wanted a place to enjoy a nice lunch and spend some time on the other side of the island and a recommendation for some Anguilla restaurants to try. After three days in a conference room, and only seeing the sun first thing in the morning and at lunch, we were ready to spend some time on another part of the island.
Paradise Cove suggested and arranged that we have lunch on the other side of the island on Shoal Beach. They arranged for a great lunch of ribs, chicken, fries, pasta salad, coleslaw, and of course as with everywhere else on the island, a Rum Punch.
We could smell the BBQ as we arrived, and sure enough we could see the cook BBQ-ing the chicken and ribs… YUM! David, a great new South African friend, said that when he talked to the cook, he told David that he created his own BBQ charcoal with local materials. This added to the flavour of the meat! As we walked down the path, we could see the bright beautiful Reggae colours on the pleasant "shack on the beach". We knew we were not in Kansas anymore!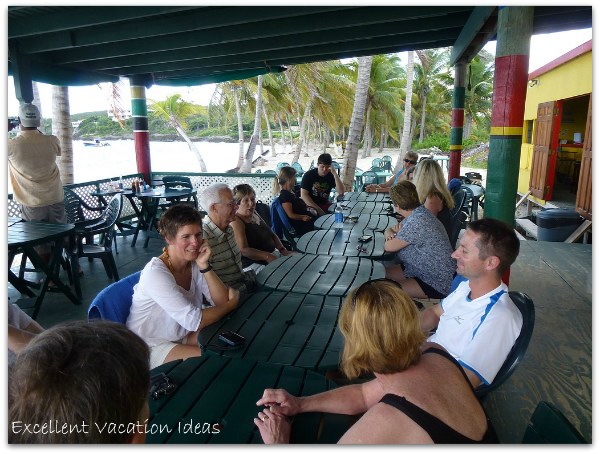 The waves were crashing on the beach, and there didn't seem to be a lot of beach. I was a little confused. Travel Channel had named Shoal Beach as the best beach in the world. With the waves crashing on the beach, while beautiful, covered most of the "beach. So we asked what was going with the beach and how do we get to Shoal Beach.
The cook of our lunch, and one of the waitresses said "this is Shoal Beach". They told me to go down around the corner and I would see it. They further explained that because of the weather, change in currents and El Nino, that the beach tide came in further and took up a chunk of the beach. When I look at older pictures on the internet of Gwen Reggae Bar and Grill, you can see that they had a much larger beach at one time.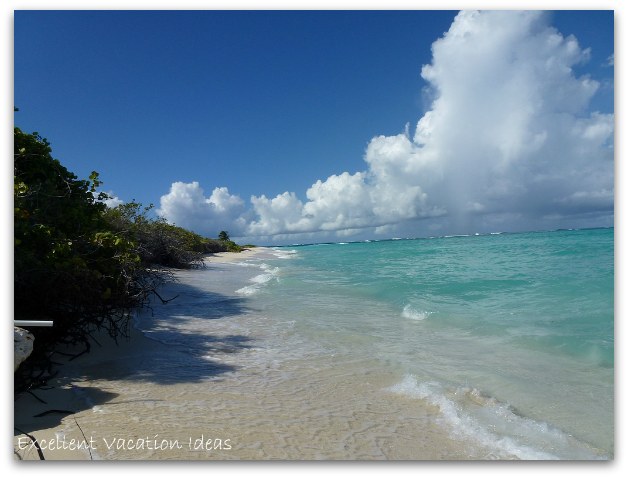 Unfortunately a few people in our party wanted to snorkel and it was just too rough to snorkel. Some did swim though, others hung out on the hammocks, one even fell out of a hammock!
After a good lunch (I wouldn't say Great Lunch) of chicken and ribs (the ribs were spiced nicely), a rum punch and a good chat with good friends, I decided to take some photos. So I found my way down to the water (as the beach was gone) and tried to walk to Shoal Beach. Mother Nature (who I learned long ago not to argue with) decided that she wanted to make it a little rough for me. I started the walk around the corner, in the water and every so often I would get bombarded with water. In fact I became the breaker for one wave as it hit my back and went all the way up to my hat and over the top! Thankfully my camera was in my pocket and protected.
Many decided to wear their swimsuits (which is what I should have done!) and take a short walk along the beach. It was beautiful!
Many others decided to hang out in the hammocks and enjoy the day and the sound of the waves crashing in.
Final verdict on one of the Anguilla restaurants - Gwen's Reggae Bar and Grill. Food was ok, experience was a lot of fun!
We had a set menu for $30 each. It was too much money for what we had for food, however the view was beautiful and a good time was had by all!
After our lunch at Gwen's we went back to Smokeys at the Cove to enjoy a few drinks and swim in the calmer waters of Cove Bay.
Find the best deal, compare prices, and read what other travelers have to say about Gwen's Reggae Bar and Grill at TripAdvisor - Rated #6 out of 56 restaurants in Anguilla.
Other Anguilla restaurants we tried were Anguilla Restaurant Tasty's (we thought this one was the best!), enjoyed a dinner at Barrel Stay and another at Smokeys at the Cove.
---