Barrel Stay is a great beach front restaurant in the Sandy Grove area of Anguilla. We had a wonderful meal here on our last night of our trip and we know you will too!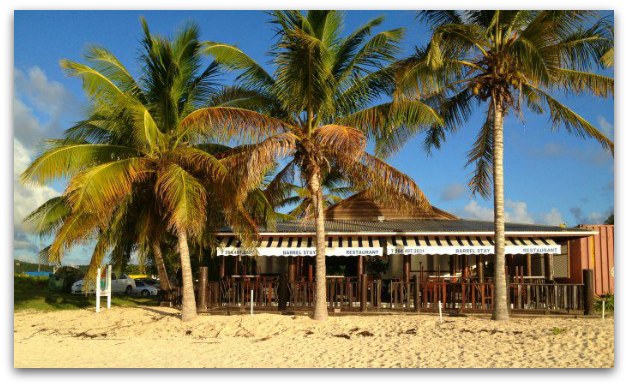 Restaurant in the Daytime
There were about 9 of us left to go out for dinner and we wanted to stay close, so we tried to go to the Straw Hat restaurant on Meads Beach. We asked the front desk of the Paradise Cove to call and see if they could accommodate about 10 of us. The Straw Hat was unable to so the Front Desk recommended Da Vida.

They tried to call but all they got was their voice mail. Frank, our trusty taxi driver, showed up, and told us not to worry, he would get us in! He had connections! So off we went. When we arrived, we found out it was closed, no wonder it went to voice mail! So Frank recommended Barrel Stay.

We are glad he did! Not only because by this time we were really hungry, but also because the dinner was excellent! Not as good as Tasty's, but it was excellent.

The owner Jill welcomed us in with open arms. The open air on the beach restaurant in Sandy Grove is beautiful in design. Jill quickly made up a table for 9, and took our drink orders. I had to ask before we went any further, where did the name "Barrel Stay" come from? Jill showed us a barrel table that was sitting behind us and told us how the restaurant came with barrel tables such as these, and that the metal ribbon around the barrel was called a "barrel stay". Sounded logical enough to me!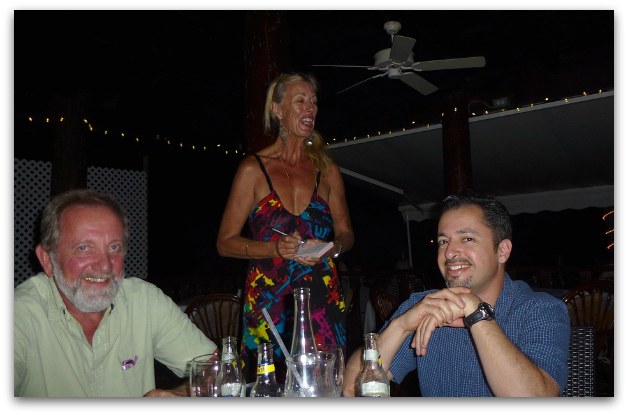 Jill Taking our Dinner Orders

The owner, in her colourful and creative way, then told us of the specials for the evening. Scottish smoked salmon with capers and salad as an appetizer, a shrimp tempura with oriental salad, or a medallion of lamb cooked the way you like it. I was sold on the smoked salmon and the shrimp tempura. In fact 5 of our 9 had the shrimp tempura and 2 had the Wahoo.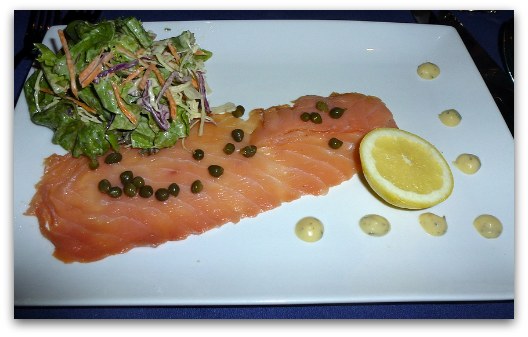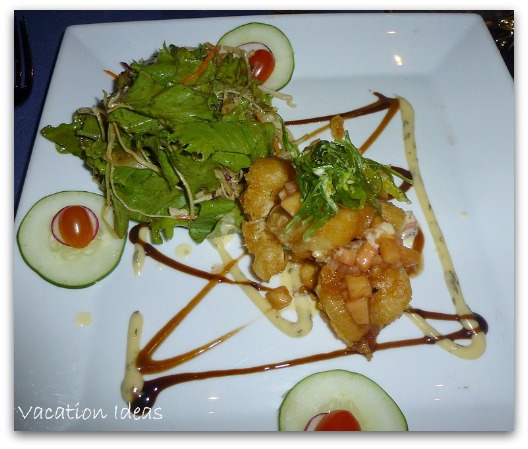 Shrimp Tempura - Yum

Not only was the food great, but we got an amazing description by Jill. She sold us really well on all of the food. Including dessert!

The Scottish salmon was excellent, and the shrimp tempura was amazing. The flavours in the salad that came with it were incredible, and the shrimp batter was a little sweeter than what you would expect.

As we finished our dinner, and Jill came around to describe the desserts. Most of us were full, but 3 of us couldn't resist. The Crème Brule was excellent, however I ordered the homemade chocolate mint ice cream. I told her that I loved chocolate mint ice cream and that I choose it every time I can! She said I must be some kind of connoisseur and asked me to be honest and tell her what I thought. I agreed and she brought me 2 scoops. I was surprised when I tasted it as it was made with real mint leaves! It was very good and different from any other chocolate mint ice cream that I had ever tasted. Apparently the baileys ice cream was good too.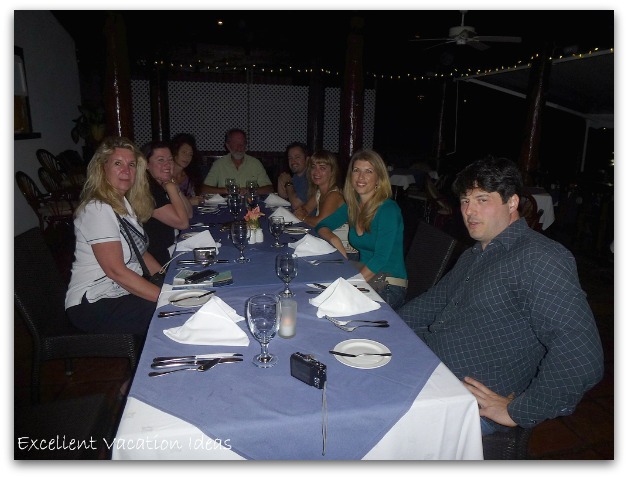 Barrel Stay is also open for lunch, however they are closed on Wednesdays.

Final verdict: The food was great, but expensive. My dinner was over $80 (and I don't drink alcohol). Also it was hot in the restaurant, which could have been because that evening was particularly warm. The service was great and the food was good. I would highly recommend it if you are staying on the island of Anguilla but make sure you try Tasty's too as we all thought that meal was better but enjoyed this one too.

If you are looking for another Anguilla restaurant try Gwen's Reggae Bar and Grill, or Smokeys at the Cove.
Find the best deal, compare prices, and read what other travelers have to say at TripAdvisor about this restaurant in Sandy Grove
---
*