Honolulu shopping - You can find almost anything in Waikiki, Honolulu! From traditional Hula outfits, beach towels and other souvenirs to couture and high fashion, Waikiki is a Mecca of shopping!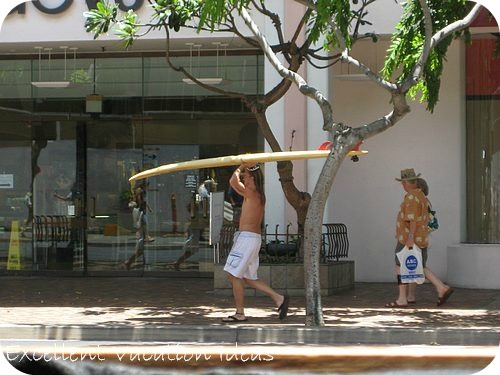 Surfer Walking in Front of Macy's on Kalakaua Ave.
I was shocked the first time I visited Waikiki by the variety of shopping. There was Louis Vuitton and Coach stores, and then there were tourist souvenir stands all within a block of each other. There are also duty free shops, and Asian department stores.
And then there is the Ala Moana Center. The largest outdoor shopping mall in the world and the largest mall in Hawaii, with the coolest food court I might add.
The shopping is so great, Japanese tourists take tours from Japan to visit Honolulu and Waikiki for the shopping alone!
Look for typical Hawaiian souvenirs like, locally grown coffee, macadamia nuts, and aloha wear.
Below you will find some options on Honolulu shopping.