We continued up the Kamehameha Hwy (Hwy 99) towards the North Shore Hawaii. The mountains were beautiful and it was a gorgeous and romantic drive.
We soon hit the sleepy little town of Haleiwa and thought of grabbing some lunch. However we had remembered that the Turtle Bay Resort was not far, so we continued on . We did a quick stop (really quick as it started to rain a bit) at Sunset Beach to see the world famous surfing beach!
Then we arrived at Turtle Bay Resort. It was like finding a small paradise. We asked the security guard at the entrance where the best place to eat was and she said "Ola". She was right - it was EXACTLY what we wanted.
The view, food and service were amazing! It was the perfect lunch on our adventure outside Waikiki. After a long leisurely lunch, we went and put our feet in the water at the beach. Then we were on our way.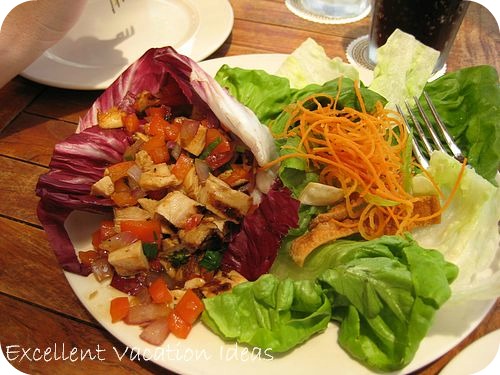 YUM!
We drove down the west coast on the Hwy 83 (Hwy 99 turned into 83 on the North Shore). We stopped a few places for pictures and to stretch our legs. We stopped at Waiahole Beach Park. It was a beautiful place, with local people enjoying the day picnicking or writing, or painting.
The water was rough - lots of waves. It was really awesome to watch. What is really neat, is that when we were in Las Vegas in May of 2008, we were talking to a server from Hawaii and he suggested that we went to this beach and we already had! It is a small world.
We drove past the Polynesian Cultural Center, but didn't stop as we were going to a luau the next night.
We were getting tired and the day was starting to catch up so we decided to cut down the Likelike Hwy, and missing Waimanalo Bay.
We did however, end up in a tunnel through the mountains. Warren thought it was the best thing since sliced bread! We even took a short video of it!
When we got back to the hotel we took a swim on Waikiki Beach in front of the Royal Hawaiian Hotel. We were stunned at how deep it was and rough - the next day however we realized that the tide was in and the current was stronger than usual - it was quite fun bopping around in the waves!
We loved our trip to the North Shore Hawaii!
Our Visit to the Volcano in Hawaii - on the Big Island of Hawaii
---