We arrived at about 7 am and were stunned at how many people were there already. I had researched before that we should be there early but we were amazed at how long the line up was!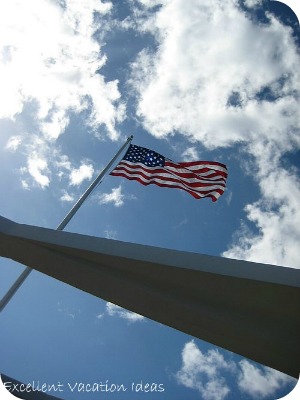 We waited about 50 min and got the 8:45 (or so) screening of the film. We decided to rent the self guided tour. It was well worth the $5.00 we paid.
We went to the small snack bar and bought a snack - just so you know the short cake is actually corn bread! Warren got a big surprise when he bit into it!
After the film, we were shuttled out to the ferry that takes you to the memorial. It is operated by the US Navy. We then spent about 15 minutes paying our respects and visiting the memorial.
I was fascinated by how the oil from the explosions that day still sat on the water. Just like ghosts from the past guarding the resting place of those that died that day
I have to admit. I wasn't that interested in seeing Pearl Harbor and the USS Arizona. I am not a history buff, however, I do feel that it is my responsibility to remember those that suffered for my freedom.
Even though I am a Canadian, what happened that day still effected my life today. The documentary was very well done (even if it is quite old) and it showed all sides from my perspective. I was surprised at the footage they had from the Japanese. I learned a lot about this part of WWII. Being a Canadian, most of our history about WWII was in Europe.
It was also kind of neat trying to imagine what happened and relating it to the movie Pearl Harbor (yes I am a movie nut).
We finished at the USS Arizona Memorial by about 10 am. It was well worth the visit and I am glad that I got to go and pay my respects.
---