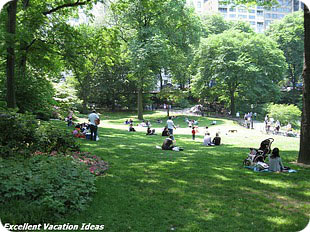 New York City Weather. Some people don't worry about weather when they travel to a destination. Others do. We have been to New York City in just about any weather, from cold and snowy, to perfect days of sunshine, to pouring with rain or snow.
Weather shouldn't stop you from visiting New York City, but if you were to ask me when the best time to go is, I would say in April or early May (and the flowers and trees are blooming in Central Park), for Christmas (just because NYC is magical at that time and shouldn't be missed) and mid September to Late October (when the leaves are changing in Central Park).
I find that the summers are really hot, humid and to be honest polluted. And the winters are too cold and/or wet. Now having said that, you never can be sure and the weather can change at the drop of a hat.
On some of our recent trips, the weather forecast was mild and dry, and the weekend turned out to be extremely cold, windy and wet. Then on another, it was supposed to be between 65 F and 75F (18 C to 23 C) with a good chance of thunderstorms, and it turned out to be over 85 F (29 C) and hot and humid with not a drop of rain!
Moral of the story, you just never know so plan for any weather and layer your clothing!