There are plenty of concession stands selling the usual popcorn, hot dogs, candy and drinks, or you can even find sushi (it it is pretty good!).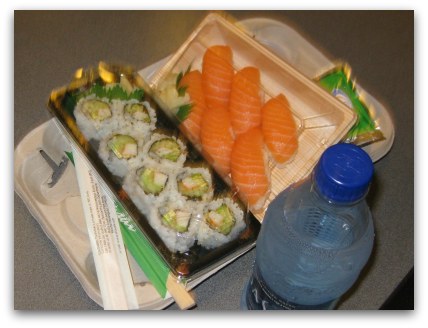 However with all event type places, prices can be quite high. It was $6.50 for a bottomless bucket of popcorn, or about $20 for sushi like you see here.
If you prefer a restaurant type meal, there is the Fox Sports and Grill. It opens at the Staples Center during events. For faster food ideas, look for the California Pizza Kitchen concession stand near Section 109 on the main concourse or a McDonald's near section 114.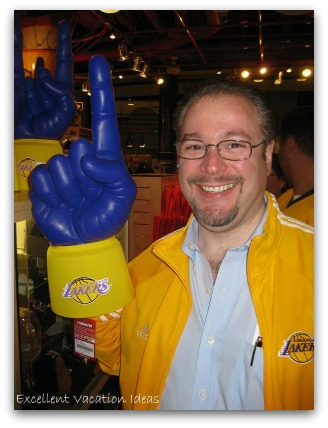 Get to your event early and you will also find all sorts of fun things to do, like pretend to spin a ball on a virtual screen like the Globe Trotters, or see the history of the LA Lakers.
Don't forget to take home a souvenir from your visit to the Staples Center. You can buy Laker's paraphernalia at the game, everything from T-shirts to foam fingers to jerseys. Warren was playing with a foam finger at one of the Lakers Games we went to.
If you would like to have dinner before the game, near the Staples Center Los Angeles, there are a number of restaurants across the street in the Nokia Center. We had dinner at Wolfgang Puck as we knew it well from Las Vegas. I had some of the best Lasagna of my life there! Make sure you get there early though as it fills up quick and you may not get a table until AFTER the game starts.
You will find other restaurants as well, like ESPN Zone, Rock'n Fish, Katsuya, Lawry's Carvery, Starbucks, or Trader Vics. Make sure you get there early or even better try to make a reservation before you get there!
If you have an early dinner, you can hang out in the Nokia Center plaza area. One year around Christmas we were there and they had a skating ring. Recently they had a beer tent, a Coke tent, a place to spin to win a Lakers T-shirt, a live ESPN broadcast and a chance to meet and get photos with a few of the Lakers Girls.