The Reef and Harborside are the condominium style accommodations at the Atlantis Bahamas.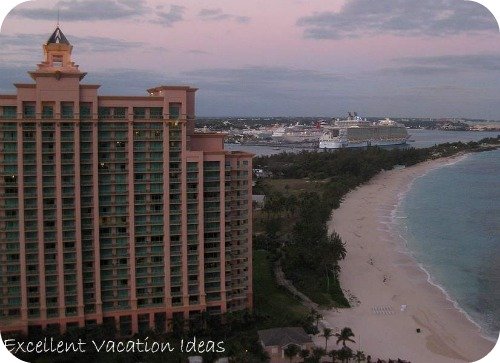 The Reef from the Cove
The Reef is the newest of the condominiums built at the Atlantis complex. The Reef offers an oceanfront alternative and is located near the Cove. The complex shares it's pool and beach with the Cove and offers the luxury that it's visitors are looking for, with the comforts of home.
You can choose from a studio, 1 & 2 bedroom suites or the Penthouse - 2 & 3 bedroom suites.

This photo of The Reef Atlantis is courtesy of TripAdvisor
To see what other visitors to The Reef Atlantis thought - check out Tripadvisor
The luxurious Harborside condominiums are located near the Marina and the Marina Village where some of the best restaurants are located on the property. Yo
You can choose from a 1, 2 or 3 bedroom villa varying in size from 558 square feet to 1486 square feet.

This photo of Atlantis - Harborside Resort is courtesy of TripAdvisor
See what others have to say about the Harborside at the Atlantis in the Bahamas at TripAdvisor
Are you looking for more ports of call for an upcoming cruise? See our pages on one of these destinations:
---