Arrival is quite straight forward, just follow the signs. Proceed to the Immigration Hall. Depending on where you plane lands, you may have to take a monorail shuttle as the passenger terminal is huge!
Before you land you should be given a landing card and sometimes a health declaration form (started during SARS). Fill it out and have your passport out and ready for when you get to immigration. If you didn't received one on the plane, then you will find them in the immigration hall.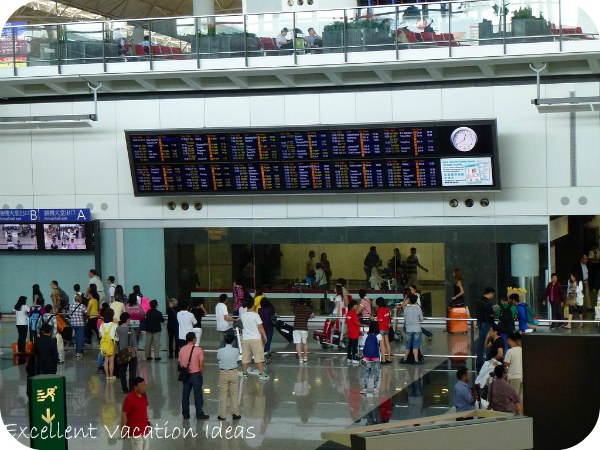 Arrivals Hall - People waiting for arriving passengers
Due to the health concerns of SARS and the Swine Flu, as you walk towards the Immigration Hall, at some point your temperature will be taken. It is done by laser and most people don't even notice it. We had it done on a people mover once, and at the top of an escalator once. If you have a fever, a medical personnel will approach you.
Once you arrive in the Immigration Hall, choose the line that says "Visitors". There will also be "Hong Kong Residents" and other lines. Make sure you go in the right one.
The immigration officer will run your passport through, stamp it and stamp and collect one of the landing card parts. DON'T LOSE the landing card, you will need it to depart from this country.
After Immigration proceed to the Baggage Hall. As the Hong Kong International Airport is the most organized airport (as is so much of the city) most likely your bags will be waiting for you. Most likely you will have nothing to declare, so go through the green channel.

Getting into the city you have a lot of options, from the Hong Kong Airport Express to buses to taxis to limos.