Hong Kong is known as "Asia's World City". There is so much to see and do, great hotels to stay in, every type of food you can think of and of course shopping. It really is a great "gateway" to Asia and China. Just make sure you spend a few days enjoying the city before you move on. Or better yet make it a larger part of your vacation.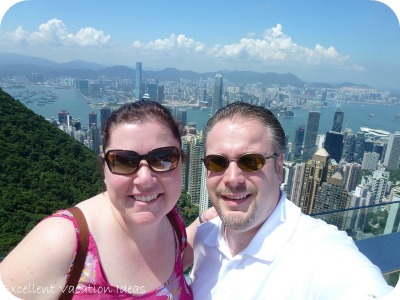 Hot and Unusually sunny day up "The Peak" in July
Before we went, I researched the things that I wanted to see for sure and prioritized them. I would recommend that to you too. Choose what you want to see on Hong Kong Island and plan a day with that, then a day for Kowloon, and a day for Lantau Island - Don't miss this! And if you want to see Disneyland or Ocean Park then add that in, preferably on another day.
Also keep the weather in mind as it will have an effect on what and when you visit certain attractions. We were there in July both times at it was either hot, humid and torrential downpours, or hot, humid and beautifully sunny, which made it even hotter! We ended up planning our days around the weather.
We would venture outside in the mornings, and then plan something inside like Sky 100 or shopping in the mid afternoon sun. We even though we were safe with going out in the evening, but the humidity was incredibly uncomfortable for us Canadians. We had a great night at the Happy Valley Race Course but almost melted that night.
To better understand how the city is laid out - check out a map to plan your trip. Here is a guide to some of the tourist attractions in Hong Kong.