Visiting this city can be the most expensive part of your vacation to Asia. This doesn't mean that you should avoid it, just the opposite in fact, don't miss it! It is one of our favorite cities in the world.
We love how the East meets the West, the food, the shopping, the hundreds if not thousands of things to do in this world class city. You just have to be smart about how you spend your time and money to get the most of it.
Hong Kong has some incredible, world class hotels like the Peninsula, the Mandarin Oriental and the Conrad. You can also find great mid range and budget hotels. We will list some popular ones below for you.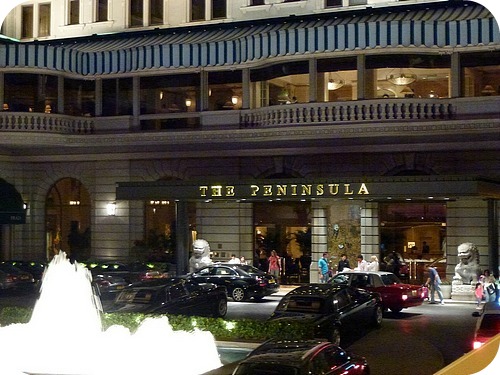 The Peninsula
Finding a cheap hotel in Hong Kong can be the hardest part of your vacation planning. The cost for your accomodations will depend on what area of the city you are planning on staying in, and the "type" of accommodation that you choose. Don't expect large glamorous rooms. This is a cosmopolitan city with very expensive real estate. Compare it to New York City or London, England.
Another option would be to choose a place further out from the city center and take the affordable and incredibly efficient MTR and bus system to tour around.
Our suggestion would be to splurge a bit for this part of your vacation, or use your frequent flyer and hotel stay points to choose a place to stayl. You will most likely get more value for your money.
On both of our trips to Hong Kong we chose to use our Starwood points and used their cash and points option. We ended up spending about $90 plus tax on a room at the Sheraton Hotel and Towers in Kowloon. The location was perfect and the view (we asked for a Victoria Harbour view room) was spectacular! Each night at 8 pm we could watch A Symphony of Lights right from our room.
A warning on guest houses or "hotels" in places like ChungKing Mansions. They are definitely a cheap hotel in Hong Kong option, however be forewarned. The rooms are small and some people report them as dingy and even a little scary. The building is huge with lots of small guest houses inside.
Some are reported clean, however, the entire building is considered by many a death trap. It is not up to fire code, and a young Canadian girl actually went missing in the ChungKing Mansions a few years ago. Our advice is to stick with larger establishments and spend more or stay less days in a larger hotel. We got our laundry done in one of the shops on the bottom layer. For that it was fine, but I wouldn't stay there or somewhere like it. Our 2 cents anyway.