Family Fun in Sedona AZ. When it comes time to plan a family vacation, Sedona Arizona provides the makings of an unforgettable adventure for families to connect with each other and with nature.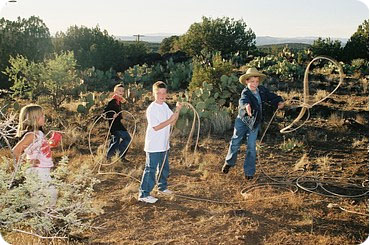 Biking, hiking, camping, climbing, swimming, water sliding, ballooning, jeep riding (guided or unguided), golf, horseback riding, birding, star gazing and picnics on the banks of gurgling Oak Creek or in Sedona's city and state parks, are some of the ways to delight both young and old.
Start your trip by doing "the best first thing to do in Sedona AZ," a Sedona Trolley ride. Get a layout of the town, find out where the great spots to eat are, what famous people have lived or live in the area, and spot famous red rock formations.
For little tykes, there are Sunset and Posse Grounds parks, equipped with playground equipment, swings and barbecue grills. For older children, there's the Sedona Skate Park, municipal tennis courts, bowling, four-wheeling, a trout farm and fish hatchery. In addition to citywide services, individual hotels and resorts have their own amenities. The Sedona Racquet Club provides family access to an indoor salt-water pool, tennis courts and workout rooms.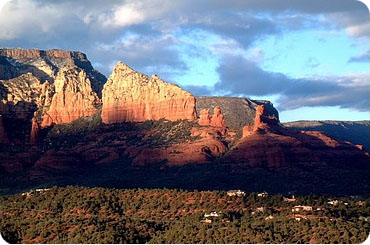 For a perfect spot to feed the ducks, enjoy a grassy area, and view Oak Creek, stop in at the public park at Los Abrigados Resort & Spa. Don't forget to save some time for a round of miniature golf at the ILX Premiere Golf Course and then stop over at Tlaquepaque for an afternoon ice cream treat or stroll among the shops.
For a special outing there's the Out of Africa Wildlife Park, a safari-like experience through 104 wilderness acres, and the Verde Canyon Railroad, a four-hour, round-trip excursion through Sycamore Canyon. (Look for the eagles!)
Small area museums provide insight into the area's history. Festivals abound throughout the year, and there are seasonal attractions—from soccer and baseball games with jaw-dropping views to summer arts and athletic camps and winter light shows.

A family may hesitate to plan a trip to Sedona- thinking it may be too expensive. But, not to worry, www.visitsedona.com abounds with packages, deals and offers in the Sedona area to make your family excursion affordable and fun.
Don't put off the experience of red rock country for fear it is too expensive. Start planning what is sure to be a trip to remember. When you do visit Sedona, make sure you capture every moment and then when you get home, post your photos on www.experiencesedona.com and share your memories with the world. Leave comments, suggestions, and ideas for others to have their Sedona get away.

----Sedona AZ Chamber of Commerce-----
---
Thank you to Heather Hermann of the Sedona Chamber of Commerce for submitting this excellent family vacation idea. I think we will have to plan a trip out there soon!
If you choose to go to Sedona AZ for your family vacation or have other Family Vacation Ideas to share with us - please share them here.